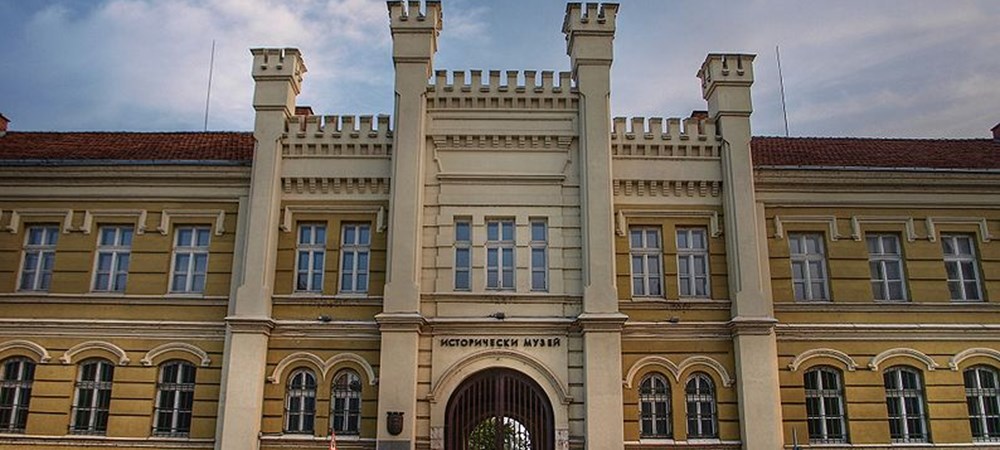 Regional Historical Musem Pleven
Регионален исторически музей Плевен
Pleven Regional Historical Museum is a scientific and educational institution. It carries out its activities related to finding, studying, exhibiting, preserving and promoting cultural and historical monuments, nature samples, the flora and the fauna on the territory of Pleven region, where important archeological sites have been found - the Roman town Ulpia Oescus near the village of Gigen, late-antique and early Byzantine fortress Storgozia, near the town of Pleven, the mediaeval Bulgarian fortress in Nikopol. The profile of the museum is general history with a natural science section. Its structure includes the following specialized departments and units: Archeology, History of Bulgaria XV - XIX c., Modern history , Ethnography, Nature, Stocks and scientific records, Public relations, Studio for restoration and conservation, Photo-laboratory , Library.
The museum and the museum stocks are situated in an impressive two-story building - a monument of culture having national significance, on an area of 7000 square meters and a park with an exposition in the open on an area of 37 decares. The basic museum stock contains over 180 000 museum items. The specialized museum library has more than 10 000 volumes of scientific literature and periodicals.
Since 1976, together with the museums of Vratsa, Vidin and Montana, Pleven museum has participated in the publication of an annual collection of works- Bulletin of the museums in Northwest Bulgaria, of which 27 volumes have been published so far.
Text source:
http://www.plevenmuseum.dir.bg/UK_version/information/museum_information.htm
Foto source:
http://commons.wikimedia.org/wiki/File:Pleven_TodorBozhinov_October_2009_(1).jpg
---
Exhibitions and events
We don't have anything to show you here.
---
Educational programs
We don't have anything to show you here.
---
Collections
We don't have anything to show you here.