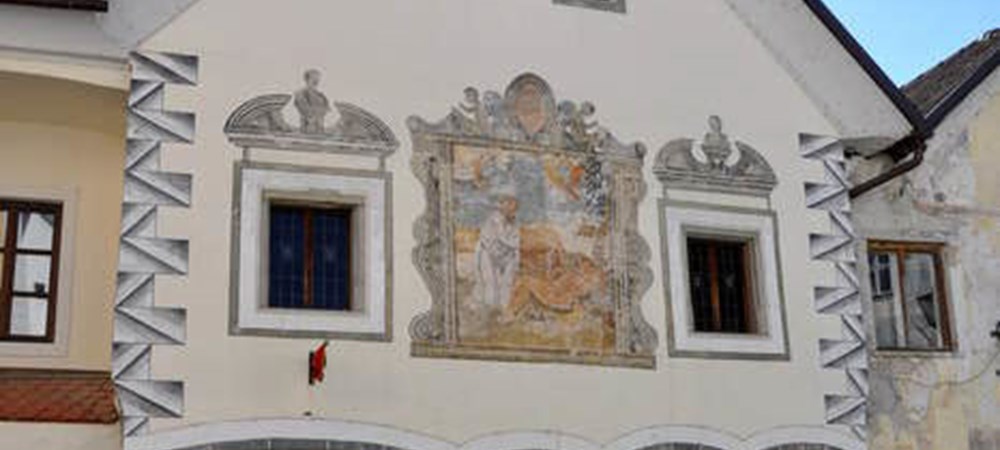 Šivec house Art Gallery
Galerija Šivčeva hiša
Šivec House, a bourgeois house from the middle of the 16th century, set in the historic centre of Radovljica, is classified among important cultural monuments of late Gothic architecture with its rich exterior and interior architectural image. After its restoration in 1976, all of its original beauty was uncovered, including the facade with its painting and variegated architectural elements as well as interior with collonade entrance hall and kitchen, granary and foremost with representative living quarters on the first floor. Nowadays, this room and its extraordinary ambiance serve as a wedding hall, and the collonade entrance hall serves as an art gallery.

Šivec House is placed in a row of two-storey buildings along the south-west side of Linhart square. From here, ones sight can almost capture the whole old city centre, which is today a protected cultural monument. In comparison to similar cities of Gorenjska, including Kranj, Škofja Loka and Kamnik, the size of Radovljica is relatively small. The size is namely conditioned with its location on a strategically very suitable natural prominence. Just as the majority of settlements with a medieval design, Radovljica too has the following architectural entities: church segment with parish church of St. Peter, a rectory and a building for nuns, the segment for lords with Thurn-Valsassina's baroque castle and bourgeois Vidic house, defense system with the only preserved defensive ditch in Slovenia and bourgeois segment with houses of merchants and craftsmen from the past.

Šivec House carries its name after the last owners that sold the house to Radovljica municipality in the seventies of the last century. Various experts under the patronage of architect dr. Peter Fister and in the organization of Zavod za spomeniško varstvo Kranj of that time have been uncovering its qualities layer by layer for several years and restored it by the year 1976 and then opened it for public. It has since then been under governance of Radovljica Municipality Museums. The house was again partly restorated or enlarged in 2001.

Šivec House and its architectural details represent a perfect example of bourgeois architecture of the second half of the 16th century. Radovljica of that time experienced its largest economical development and its people, under the influence of ideas of renaissance, desired to live in a more comfortable manner and to have more representative houses. The ground floor of Šivec House has three quarters. Today, these host an art gallery. This was originally the location with a shop, a workshop and a warehouse, while a farm building was added to it later on. First ground floor quarter has a "late-Gothic" design and reminds of an ambient in church. The columns that give rise to four-pole cross-ribbed arch divide it into two naves. The second room is deepened, smaller and is arched.

A staircase leads from ground floor on the floor with living quarters. From the entrance hall, which is decorated with balustre fence, one enters through distinct portals into central living quarters, kitchen, pantry and into external arched hall. Central living quarter is coated in original wooden wainscot and has a richly profiled wooden ceiling. The furniture and equipment are newer and adapted to serve as a wedding hall. The kitchen is a proof of high living standard of that time, because it has a specially dedicated quarter that also contains a hood. A gothic portal connects it with a deepened lying pantry where foods and all other goods were stored in chests.

The facade of Šivec House is richly painted with "stitched" corners and with a central fresco depicting a scene of the Merciful Samaritan in a richly adorned frame (from the 17th century) and figural decoration above windows of the first floor. An interesting decorative and architectural element is the so called balcony that was used to increase the surface area of the floor. The portal is from green "Peračica" stone of a later period and was kept because of static reasons.

The gallery of Šivec House has two units: gallery that annually hosts up to ten exhibitions of domestic and foreign artists and a permanently set collection of illustrations for children and youth.
---
Exhibitions and events
We don't have anything to show you here.
---
Educational programs
We don't have anything to show you here.
---