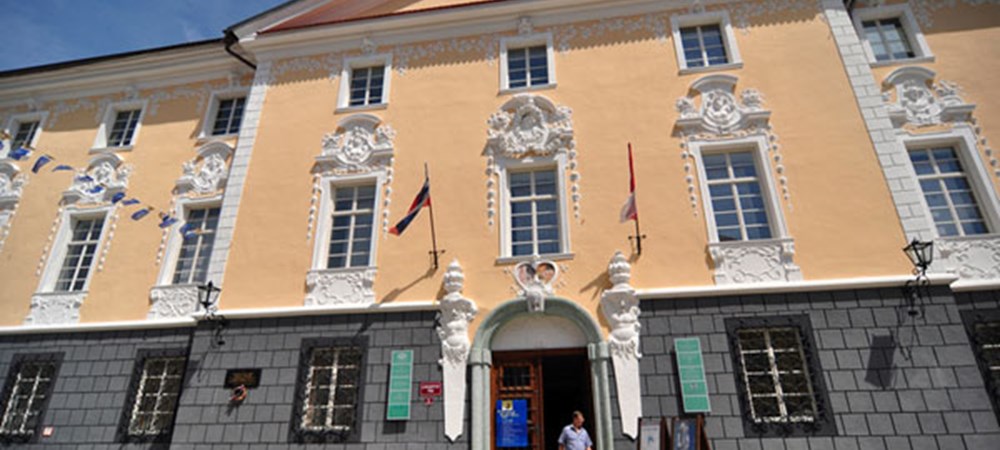 Museum of Apiculture
Čebelarski muzej
This museum belongs to a group of special museums. Since its opening in 1959 it has been taking care of Slovenian beekeeping heritage, keeping records of it, collecting, storing, documenting, representing and popularizing it. Its quarters are in the baroque manor house in the old part of the town.

The collection represents three key themes that mark Slovenian beekeeping: autochthonous race of bees, world renowned beekeepers and painted frontal boards of beehives.

In the introduction, the visitor is acquainted with the history of beekeeping in Slovenia. First room represents beekeeping from their beginnings, when hollow tree trunks were utilized, until the middle of 19th century, and renowned beekeeping teachers, writers and beekeepers: Anton Janša and Peter Pavel Glavar.

Anton Janša (1734–1773) was appointed a teacher of beekeeping at the beekeeping school in Wienna by the decree of Empress Maria Theresa. His two books show his own manner of beekeeping that was successfully implemented by him at the Wienna school and a few important findings pertaining to the biology of bees.

Priest Peter Pavel Glavar (1721–1884) was a successful farm and beekeeping manager, writer of suggestions for improvement of beekeeping and introduction of beekeeping schools, author of first Slovenian beekeeping text (translation and amendment of Janša's "Razprava o rojenju čebel" (A treatise on bees-swarming).

The material in the second room covers time from the middle of 19th century to middle of 20th century. Besides perfected beekeeping tools and various types of beehives one can also see: World renowned Jan Strgar (breeder of queen bees and a merchant) and Mihael Ambrožic (merchant with live bees), the constructor of a modern bee hive, Anton Žnideršič, prominent writers on the subject of beekeeping and beekeeping literature.

The central part of museum is intended for painted frontal boards of bee hives – panjske končnice.

In the middle of 18th century, painting decorations began to appear on frontal sides of popular bee hives, kranjiči.

Templates for motifs were representations of sacral art, illustrated bible, icons, glass paintings and graphic sheets. Today, all known motifs include over 600 various motifs. More numerous and older are the motifs with sacral content (mostly representing saints). Among the most common are Mary as the universal protector, also painted on the oldest known painted frontal board (dating back to 1758) and St. Florian. The group of secular motifs is composed of imaginary scenes (e.g. animals in human roles, scoffing at craftsmen, human faults), hunting scenes, historic themes (military scenes, historic persons) and scenes from everyday life.

Beehive painting, which was most prolific between 1820 and 1880, started to die away with transition into 20th century. Painting on the frontal panels of bee hives is a particularity of Slovenian Alpine region and is an indispensable part of Slovenian folk art.

The biological room serves to acquaint the visitor with the biology of authothonous Slovenian race of kranjska cebela (Carniolan bee) or kranjska sivka (Grey bee of Carniola). Close-up photographs of bees, introduction of main bee pastures, sounds from bee hive, live bees in an observation bee hive (from spring to autum) and shots of bee pastures vividly show the life and labour of bees. The main theme is rounded by introduction of symbolism that is expressed by the image of a bee (e.g. medals, money...).

Modern day beekeeping is represented with a part of bee house type of Gorenjska region in its natural size and with modern day beekeeping framework. The space is simultaneously also intended for video representations and computer applications that deal with bees and beekeeping on Slovenian territory.

The path through the museum ends in the room for occasional and casual exhibitions that pertain to beekeeping (e.g. exhibition of carved models for "mali kruhek" ( honey pastry), representation of maker of koncnica copies, products of kindergarten and elementary school children...).
---
Exhibitions and events
We don't have anything to show you here.
---
Educational programs
We don't have anything to show you here.
---