Velika Nedelja Castle
Grad Velika Nedelja
Not far from the parish church there is a castle which used to be the Commandry of the Teutonic Knights order and was first mentioned in 1273. The basic structure must have been built around 1200 when Friedrich of Ptuj, ministerial of Salzburg, took possession of the land around Velika Nedelja with the help of the German knights' order. The castle medieval core has been preserved in the south-western part of the castle building, although the Renaissance building elements prevail. Restoration procedures that followed it construction, and especially those undertaken between 1723 and 1730, did not considerably alter the outside appearance of the castle.

A Baroque well with a wrought-iron crown and driving device has been preserved in the castle yard.

The castle chapel used to house famous Gothic sculptures of St. Catherine, St. Barbara and Pietà from the first quarter of the 15th century. They are the result of the statuary art workshop which was founded around 1400 at the building site of the pilgrimage church on Ptujska Gora. Nowadays the above-mentioned statues are kept in the Ptuj castle. A quality statue, now built anew in the castle wall in the inner yard, is the relief of the coat of arms belonging to the komtur Marquard von Eckh from 1612 presumably realised by an Italian Renaissance sculptor, Philibert Pacobelli.

The collections in the castle: Ethnological Collection and Velika Nedelja Through Centuries.
Other venues
---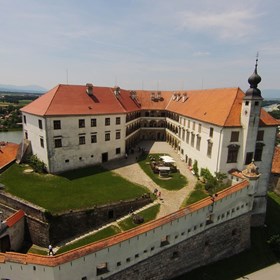 Muzejski trg 1, Ptuj, Slovenia
Kolodvorska 9, Ormož, Slovenia
---
Guided tours
---
Exhibitions and events
---
Educational programs
We don't have anything to show you here.
---