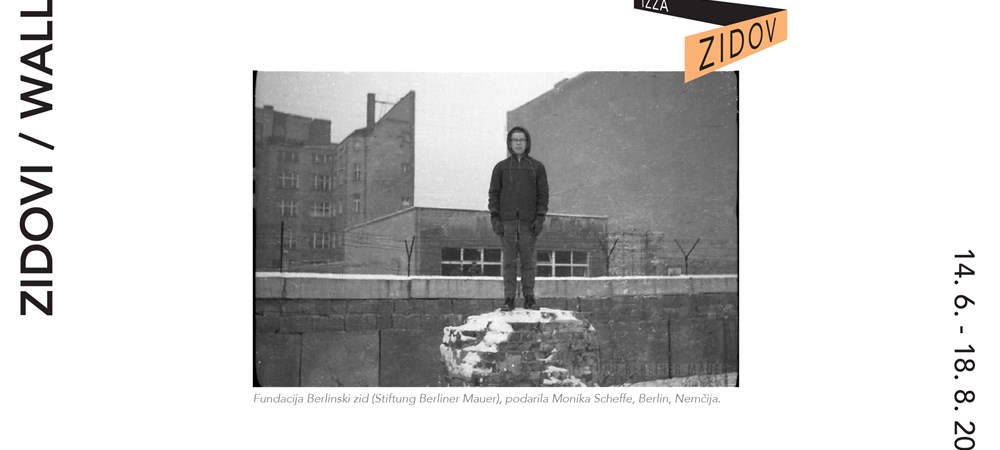 ZIDOVI/ WALLS
Mednarodna potujoča razstava
13. junij – 18. avgust 2019
Razstava Zidovi/ Walls je del mednarodnega projekta Izza zidov: 1989–2019/Observing Walls: 1989–2019. Projekt se ukvarja z zidovi v Evropi danes – razumljenimi kot fizična realnost in kot simbolna meja v deljenih mestih: v Berlinu, v Gorici/Novi Gorici in v Sarajevu. Izbira mest sloni na njihovi edinstvenosti in izkušnji z zidovi, z mejami in delitvami prostora. Nekoč razdeljeno mesto Berlin je primer, kako se lahko konstruktivno soočimo s preteklostjo in ukvarjamo z dediščino travmatičnih izkušenj danes. Mesto Gorica, ki je bilo v medijih tudi zmotno poimenovano »mali Berlin«, je bilo leta 1947, ob nastanku nove meje, soočeno z izgubo velikega dela predmestja ter prebivalstva. Leta 2004, ob vstopu Slovenije v Evropsko unijo, je trg med obema Goricama postal simbolično prizorišče praznovanja in združevanja Evrope. Naslovi, kot je »zadnji zid Evrope je padel«, so pisali pripovedi o novi Evropi, o Evropi miru in enotnosti. Nove meje, osnovane po razpadu Jugoslavije, pa so nevidno razdelile multikulturno mesto Sarajevo. Novi zidovi so vztrajali vse do današnjih dni in oblikovali različna razumevanja pojmov svobode in demokracije.
V prepričanju, da ne moremo ustvariti boljše prihodnosti brez kritičnega razmišljanja in večplastnega spominjanja na preteklost, projekt ponuja pomemben prispevek k razumevanju svobode, demokracije in delitev, zlasti v zgodovinskih letih 1989 in 2004. Osredotočamo se na zgodbe preteklosti in dediščino spornih spominov, obenem pa se sprašujemo, kje so zidovi med nami, ter kako lahko te zidove ločevanja skupaj spremenimo v mostove povezovanja.
Partnerji projekta: Muzej novejše zgodovine Slovenije (Slovenija), Beletrina (Slovenija), Fundacija Berlinski zid (Nemčija), MMC RTV SLO (Slovenija), Muzej zgodovine BiH (Bosna in Hercegovina), Zavod Quarantasettezeroquattro 47/04 (Italija)

____________________________
International travelling exhibition
13 June - 18 August 2019
The Zidovi/Walls exhibition is part of the international project Observing Walls: 1989–2019. The project focuses on the walls in Europe today – understood as a physical reality and as symbols of division in divided cities: Berlin, Gorizia/Nova Gorica, and Sarajevo. These cities were selected based on their unique experience with walls, borders, and divisions of space. The once-divided city of Berlin is an example of how we may approach our past in a constructive way to deal with the legacy of past trauma. Gorizia, often wrongly referred to as "little Berlin" in the media, lost a significant part of its suburban areas and citizens in 1947, when the new border line was drawn between Yugoslavia and Italy. In 2004, when Slovenia joined the European Union, the square between the two cities became the site of celebration of the symbolic unity of the two parts of Europe. Titles such as "The Last Wall of Europe has Fallen" spoke of a new Europe, a Europe of peace and unity. New invisible borders that came into existence after the dissolution of Yugoslavia divided the multicultural city of Sarajevo. Newly-built walls remained and shaped the meanings of the ideas of freedom and democracy.
Based on the idea that we cannot create a better future without critical thinking and multi-layered remembrance of the past, the project offers a significant insight into the understanding of freedom, democracy, and divisions, especially in the historic years of 1989 and 2004. Focusing on the stories of the past and the heritage of contested memories, we ask ourselves where the walls between us truly are, and how we may transform these walls of division into bridges of integration.
Project partners: National Museum of Contemporary History (Slovenia), Beletrina Academic Press (Slovenia), Berlin Wall Foundation (Germany), Historical Museum BiH (Bosna and Hercegovina), Quarantasettezeroquattro (Italy).