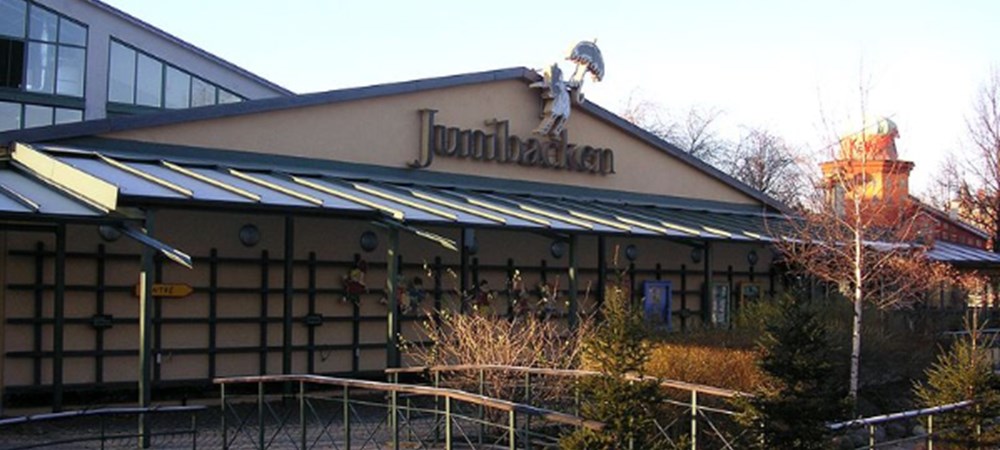 Junibacken
Junibacken is a children's museum situated on the island of Djurgården in the centre of Stockholm, Sweden. The museum was officially opened by the Swedish Royal Family on June 8, 1996. The museum is Stockholm's 5th most-visited tourist attraction. The museum is devoted to Swedish children's literature, but especially Astrid Lindgren. Outside the building is a bronze statue of Lindgren. The art direction and images for the interior design were made by Swedish artist Marit Törnqvist, who had previously made illustrations for more recent versions of Lindgren's books.
The museum contains the largest children's bookstore in Sweden. The lockers in the entrance hall are unusual in that each is in the form of a giant book-spine, featuring world classics such as Treasure Island and The Jungle Book. Other main attractions include a Storybook Square, a mock public square where each house is devoted to a separate Swedish children's author (other than Lindgren), from the earliest writers such as Elsa Beskow to recent writers such as Sven Nordqvist. The square ends at a mock Vimmerby railway station. The station also presents framed copies of Lindgren memorabilia, including a glowing letter of praise for Lindgren from then president of the Soviet Union Mikhail Gorbachev. From the station visitors then take a theme-train ride through the world of Astrid Lindgren's books, with one "stage setting" for each of her well-known works, such as Madicken, Karlsson-on-the-Roof, Ronia the Robber's Daughter, Emil i Lönneberga, and The Brothers Lionheart. The train ride ends at a half-side reconstruction of Villa Villekulla, the home of Lindgren's most well-known character, Pippi Longstocking.
The museum also includes a theatre, restaurant and temporary exhibition space. The temporary exhibition space is usually devoted to a single author or character and normally remains in place for 11 months. Among the most popular of the temporary exhibitions have been Pettson and Findus, and Trazan och Banarne.
Text source
Image source
---
Exhibitions and events
We don't have anything to show you here.
---
Educational programs
We don't have anything to show you here.
---
Collections
We don't have anything to show you here.