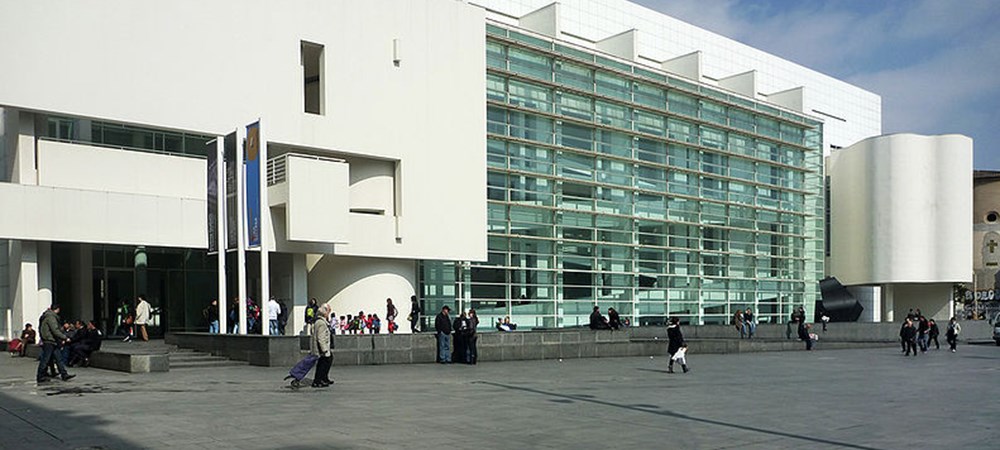 Barcelona Museum of Contemporary Art
Museu d'Art Contemporani de Barcelona
The Barcelona Museum of Contemporary Art (Museu d'Art Contemporani de Barcelona, or MACBA) is situated in the Plaça dels Àngels, in El Raval, Ciutat Vella, Barcelona. The museum opened to the public on November 28, 1995. Its current director is Bartomeu Marí (since 2008). Previous directors were Daniel Giralt-Miracle (1988-1994), Miguel Molins (1995-1998), Manuel J. Borja-Villel (1998-2007).
The Foundation manages the permanent collection, which dates from the mid-20th century onward. There are three periods of modern art represented: the first one covers the forties to the sixties; the second spans the sixties and seventies; the third period is contemporary. The collections focus on post-1945 Catalan and Spanish art, although some International artists are also represented. The permanent collection, as well as temporary exhibitions, seek to examplify the Foundation's mission, stated below:
"Through the Collection and the exhibition/activities calendar, the MACBA hopes to construct a critical memory of Art of the latter half of the 20th century, with two objectives: to oppose rhetoric and hegemonic forces which tend to mythologize the local-national while exploiting cultural institutions as active agents of tertiary economics in urban centres; and to present alternatives for the insufficiencies of the dominant museum model, which is generally based on the universalist myth of the original work presented as spectacle. Working from the concept that there is no "public;" only "publics" consisting of specific and differentiated groups, the museum ceases to be a mere producer of exhibitions and becomes a purveyor of different services for different subjects. The exhibition is then an experience on a par with that of workshops, conferences, audiovisual activities, publications, etc. All of these experiences are defined by a series of discursive lines which lend thematic coherence" MACBA Website.
Text source
Image source
---
Exhibitions and events
We don't have anything to show you here.
---
Educational programs
We don't have anything to show you here.
---
Collections
We don't have anything to show you here.