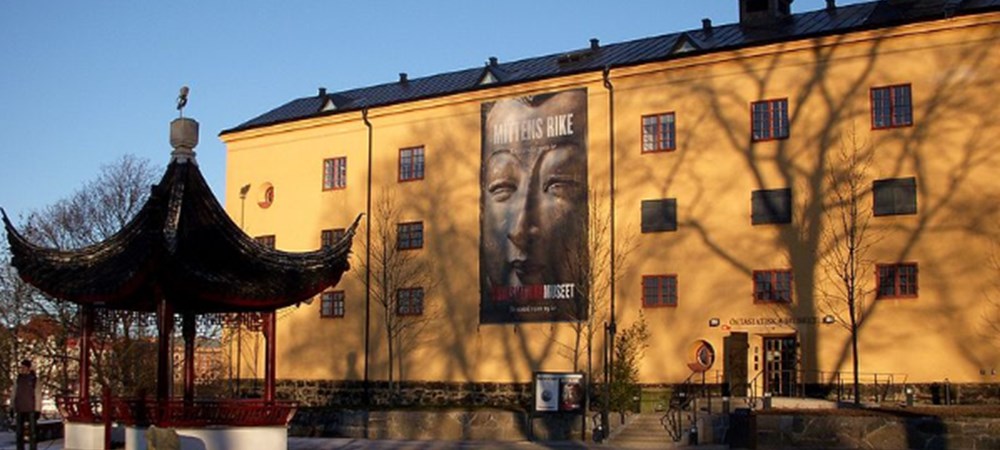 Museum of Far Eastern Antiquities
Östasiatiska museet
The Museum of Far Eastern Antiquities manages some 100,000 objects. The collections consist primarily of archaeological and art historical material from China, Japan, Korea and South Asia. In addition, the Museum of Far Eastern Antiquities has a small number of artefacts from Southeast Asia and Central Asia.

The collections derive from archaeological fieldwork carried out in the central and northwestern regions of China by the Swedish researcher Johan Gunnar Andersson (1874 - 1960). The fieldwork was carried out during the period 1921 – 1926 in collaboration with Johan Gunnar Andersson's Chinese colleagues such as Yuan Fuli (P. L. Yuan) and the Swedish Crown Prince, later King Gustav VI Adolf, and Crown Princess. The findings consisted of human cultural remains from pre-revolutionary China, mostly ceramics from around 5,000 – 600 years BCE, a period that is generally referred to as the Neolithic Stone Age.

The outstanding Swedish and Chinese collaborations resulted in the so-called Far Eastern Collections and a designated museum from the Swedish Parliament in 1926. Since then, the Museum has through donations and acquisitions accumulated a large volume of materials relating to Asia and Asian cultures with specific focus on gentry culture.

In 1959, the Far Eastern Collections were put together with the National Museum's collection of East Asian and South Asian arts and handicrafts. The new museum opened in 1963 at the former premises of the Royal Armoury on Skeppsholmen. The Museum of Far Eastern Antiquities was part of a Government agency, i.e. the National Museum of Fine Arts, until 1999 when the National Museums of World Culture was established to incorporate the Museum of Mediterranean and Near Eastern Antiquities/Medelhavsmuseet, the Museum of Ethnography/Etnografiska museet (Stockholm) and the Museum of World Culture/Världskulturmuseet (Gothenburg).

In addition to its own collections, the Museum of Far Eastern Antiquities runs the following permanent exhibitions: China before China, the Middle Kingdom – Imperial China, Japan, Every object and picture tells a story, China's history of books, the South Asian Gallery, Korea, Chinese religious sculptures and Chinese paintings.

Östasiatiska museet/The Museum of Far Eastern Antiquities is beautifully situated on Skeppsholmen – a small island in the centre of Stockholm. The most direct route to the museum is by Bus 65 from Odenplan, via Stockholm Central Station. Bus stop is 'Östasiatiska museet'. If travelling by the Stockholm Metro (T-bana) then get off at station 'Kungsträdgården'.
---
Exhibitions and events
We don't have anything to show you here.
---
Educational programs
We don't have anything to show you here.
---