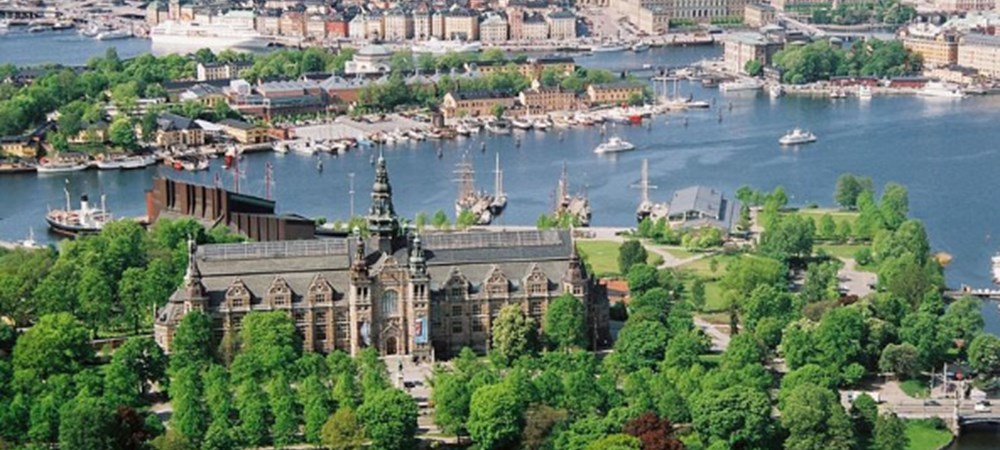 Nordic Museum
Nordiska museet
The Nordic Museum (Nordiska museet) is a museum located on Djurgården, an island in central Stockholm, dedicated to the cultural history and ethnography of Sweden from the Early Modern age (which for purposes of Swedish history is said to begin in 1520) until the contemporary period. The museum was founded in the late 19th century by Artur Hazelius, who also founded the open-air museum Skansen, for long part of the museum, until the institutions were made independent of each other in 1963.
The Museum was originally (1873) called the Scandinavian ethnographic collection (Skandinavisk-etnografiska samlingen), from 1880 the Nordic Museum (Nordiska Museum, now Nordiska museet). When Hazelius established the open-air museum Skansen in 1891, it was the second such museum in the world.
For the Nordic museum, Hazelius bought or managed to get donations of objects – furniture, clothes, toys etc. – from all over Sweden and the other Nordic countries; he was mainly interested in peasant culture but his successors increasingly started to collect objects reflecting bourgeois and urban lifestyles as well. For Skansen he collected entire buildings and farms.
Although the project did not initially get the government funding he had hoped, Hazelius received widespread support and donations, and by 1898 the Society for the promotion of the Nordic Museum (Samfundet för Nordiska Museets främjande) had 4,525 members. The Swedish parliament allocated some money for the museums in 1891 and doubled the amount in 1900, the year before the death of Hazelius.
The present building, the design of Isak Gustaf Clason, was completed in 1907. Originally, it was intended to be a national monument housing the material inheritance of the nation. It was, however, only half-completed for the Stockholm Exposition 1897, and it never was completed to the extent originally planned, three times the actual size. It takes its style from Dutch-influenced Danish Renaissance architecture (i.e. buildings such as Frederiksborg Palace) rather than any specifically Swedish historical models. The core of the "cathedralesque" building is taken up by a huge main hall passing through all the stories up to the roof and dominated by the enormous sculpture of King Gustav Vasa, the Swedish so called founder-king. For the construction, brick and granite was used for the walls, while concrete was used for the roof.
Text source
Image source
---
Exhibitions and events
We don't have anything to show you here.
---
Educational programs
We don't have anything to show you here.
---