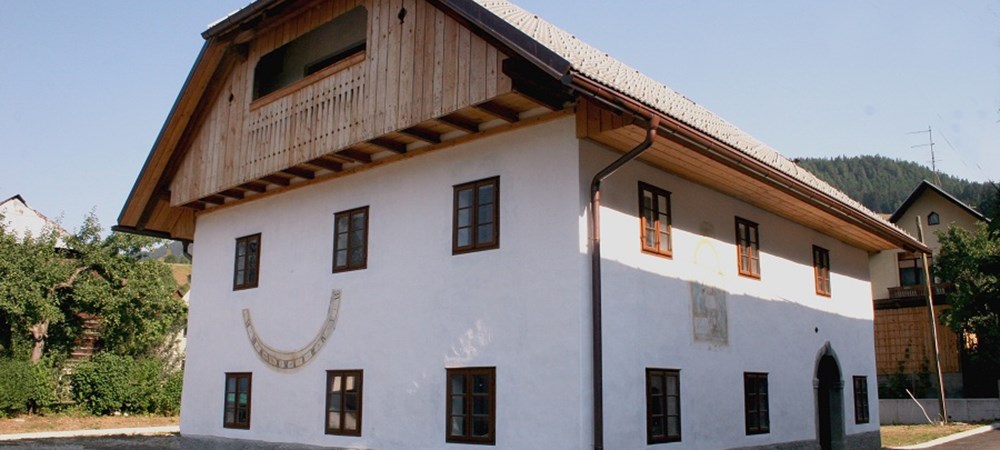 Kajžnk House
Kajžnkova hiša
Kajžnik's house is situated in the southern part of the village centre. It is a one-floor stone house with a double-sloping roof with a gable and external corridors. A former home of a medium well-off farm has a typical floor plan: living room with a small room, hall with a black kitchen and a granary. A fresco of St. Florian is preserved on the eastern facade, and a sundial can be seen on the southern facade. The main entrance has a semi-circular stone portal and profiled door. Evidence, proving the existence of an original wooden building, has been found in the house. The ground-floor plan in repeated on the first floor, however, there are no rooms above the black kitchen or the granary. The house as it looked in the 19th century has been partly preserved while the farm building has not. Builders' joinery and carpentry was made very carefully, and preserved are the front doors, doors to the pantry and black kitchen, parts of built-in cupboards and stucco decoration in the living room. In 1995 theMunicipalityofKranjska Gorabought Kajžnk's house, which had been damaged in a fire, and gradually renovated it under the authority of the Institute for the Protection of Cultural Heritage Kranj. The renovation was completed in 2004.
---
Exhibitions and events
We don't have anything to show you here.
---
Educational programs
We don't have anything to show you here.
---