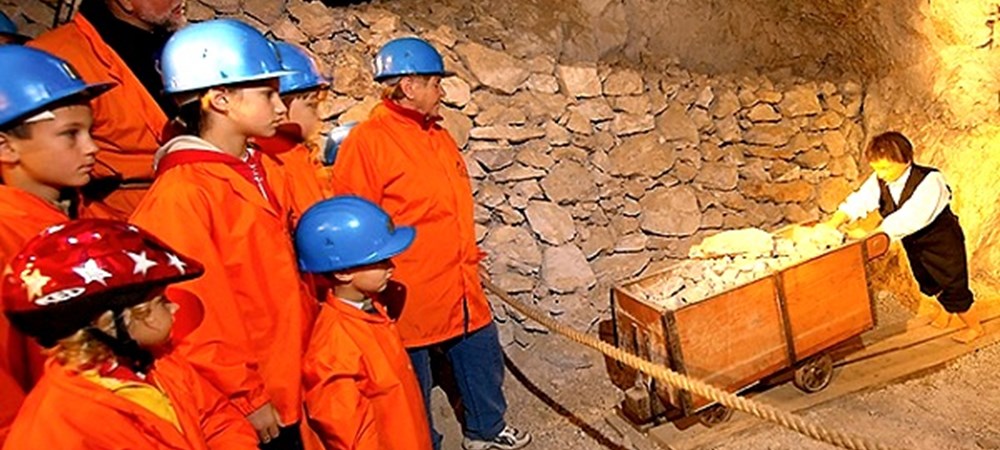 Peca Underground – Tourist Mine and Museum
Podzemlje Pece – turistični rudnik in muzej
The entrance to the Tourist Mine and Museum is located on the fringe of Mežica, above the regional road going to Črna na Koroškem. Visits to the Museum are held in a renovated part of the mine quarter called Moring, which is reached by a mine train. After a couple of minutes' drive visitors proceed on foot and meanwhile learn about the technical heritage and the three-century history of mining. From the very beginning in the 17th century, when most of the miner's work was done manually, up to the cessation of production in 1994, when the mine was equipped with modern machinery.

The underground part of the Museum is complemented with collections in former administrative premises situated in front of the entrance to the mine. The upper part of the Museum presents not only mine measuring tools and techniques and a collection of ores, minerals and fossils, but also a typical miner's dwelling from the period before the Second World War. The latter portrays daily lives and domestic culture of miners' families. A special feature of the Mežica mine is a cycling route, which is more than 5 kilometres long and is located underneath the surface. Experienced guides take visitors on cycling tours through mysterious tunnels illuminated with myriads of glimmering crystals.

---
Exhibitions and events
We don't have anything to show you here.
---
Educational programs
We don't have anything to show you here.
---
Collections
We don't have anything to show you here.