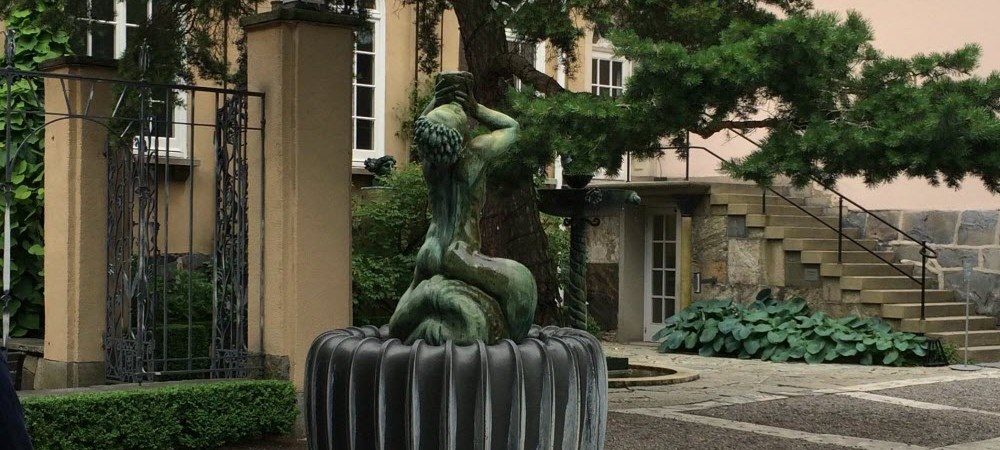 Millesgården
Welcome to Millesgården - an oasis just 20 minutes from downtown Stockholm.

The artist home was built in 1908 by sculptor Carl Milles and his wife painter Olga Milles. In 1936 Millesgården was given by Carl and Olga to the Swedish commuity and is since then run as a foundation. Millesgården is today a well renowned museum with an artist home, an antique collection, a wast sculpture garden, an art gallery with a museum shop and a restaurant. Our visitors come from all around the world, to enjoy both the peaceful sculpture park, as well as the inspiring exhibitions.

Millesgården can be termed a work of art in its own right, a nicely balanced stage design of terraces, fountains, stairways, sculptures and columns, coupled with a diversity of vegetation and an immense vista across the waters of Värtan from the rocky heights of Herserud.

It was in 1906 the sculptor Carl Milles bought a plot of land on the island of Lidingö, and in 1908 he had a house and a studio built here. Carl and Olga remained in this lovely home until 1931. A magnificent donation by Carl and Olga Milles established, in 1936, the Carl and Olga Milles Lidingöhem Foundation. Millesgården was first opened for the general public in the closing years of the 1930s.

Millesgården is still run by the foundation, which includes representatives of the Swedish Government and the Municipality of Lidingö. This unique setting, one of Sweden's foremost tourist attractions, welcomes thousands of visitors every year. It is open all the year round and the intention is for the museum, aided by exhibitions and activities of various kinds, to continue in the visionary spirit of Carl Milles himself.
---
Exhibitions and events
We don't have anything to show you here.
---
Educational programs
We don't have anything to show you here.
---
Collections
We don't have anything to show you here.