MUSE - Museo delle Scienze
Science, nature and society

The Science Museum of Trento, designed by Renzo Piano, dedicates six floors to topics such as science and nature, biodiversity, innovation and technology.
Thanks to multimedia exhibits and immersive environments, MUSE explains the wonders of the alpine environment and the nature that surrounds us.

Another focus lies in issues of global interest, such as sustainable development and environmental conservation, which are equally engaging.

Special display areas

Big Void
A vast space, on wich all exhibition floors face, with taxidermied animals

FabLab
A digital fabrication laboratory that promotes creativity.

Maxi Ooh!
An area to discover through the senses. For children 0-5 yars old.

The tropical mountain greenhouse
A fragment of the forest of Udzungwa Mountains in Tanzania, one of the main biodiversity hotspots of our planet.
What's up

Guided tours
Join our guided tours to discover the exhibition galleries of MUSE.

Explore the museum with a backpack
an activity for young explorers. For children 6-10 years old.

Explora MUSE
The high-tech multimedia guide that makes the visit an exiting experience.

Other venues
---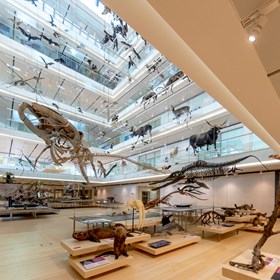 Corso del Lavoro e della Scienza, Trento, Italy
---
Exhibitions and events
We don't have anything to show you here.
---
Educational programs
We don't have anything to show you here.
---
Collections
We don't have anything to show you here.