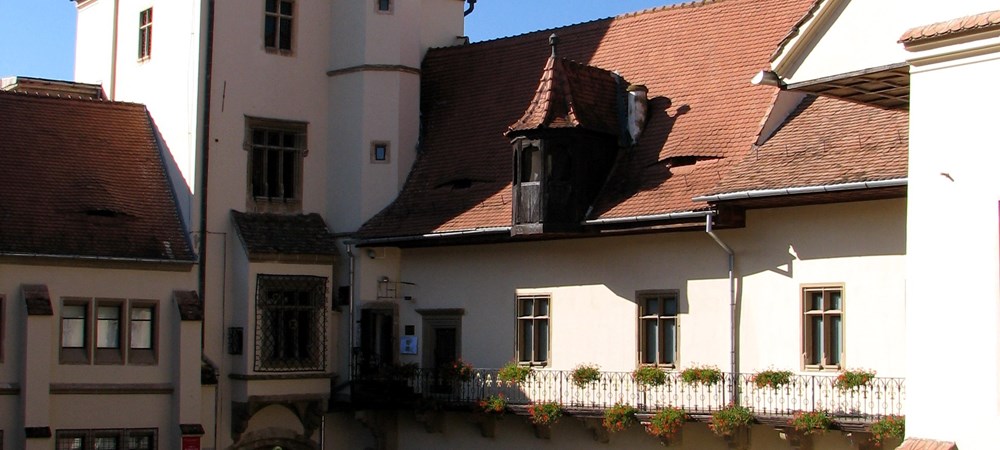 Museum of History
It is part of the Brukenthal National Museum.
The building known today as the Altemberger House, after the name of its first proprietor, was purchased in 1545 by the Magistrate of the city, becoming the location of the Town Hall for 400 years (until 1948). It comprises 10 architectural units, to which a defensive tower was added, conjointly structuring one of the most impressive ensemble of civic Gothic architecture in Romania and even in the South Eastern Europe. The oldest part of the architectural set is the dwelling tower, its construction being initiated in the late 13th century.
Multi-folded in the ways of approaching, the broad concept of the permanent exhibition (reorganised during 2006 and 2007) is that of local history.
Beginning by presenting the common life in the Palaeolithic Period, the exhibition offers an illustrative image about how people lived in caves, in huts, in households, in more elaborate villas or medieval interiors – The Emergence of Human Settlements in Southern Transylvania. Human activities are described from the game-processing to the specialized production of guilds – The Glasswork in Transylvania and The Guilds of Sibiu. The social status and the leading position are underlined through the means of the exhibits in the Roman Lapidarium and the Medieval Lapidarium as well as by the settings of the exhibition presenting the Magistrate of Sibiu.
Warfare was another facet of the human existence, implying weapons, tactics, logistics and specific organisation, all envisaged through the means of arms and armours – Arms and Armors. Religious believes are constant aspects of human life, being illustrated since Prehistory to the days of elaborate liturgical rites, through the means of cultic items – Liturgical and Lay Silverware. This is also the case of the use of coins – Coins and Medals. Finally, the tour concludes with the presentation of the Southern Transylvania Movement for National Emancipation, presenting events of the 18th to the 20th century period.
The education room of the Museum of History opened in 2008. The space also accommodates seminaries and meetings.
---
Exhibitions and events
We don't have anything to show you here.
---
Educational programs
We don't have anything to show you here.
---
Collections
We don't have anything to show you here.