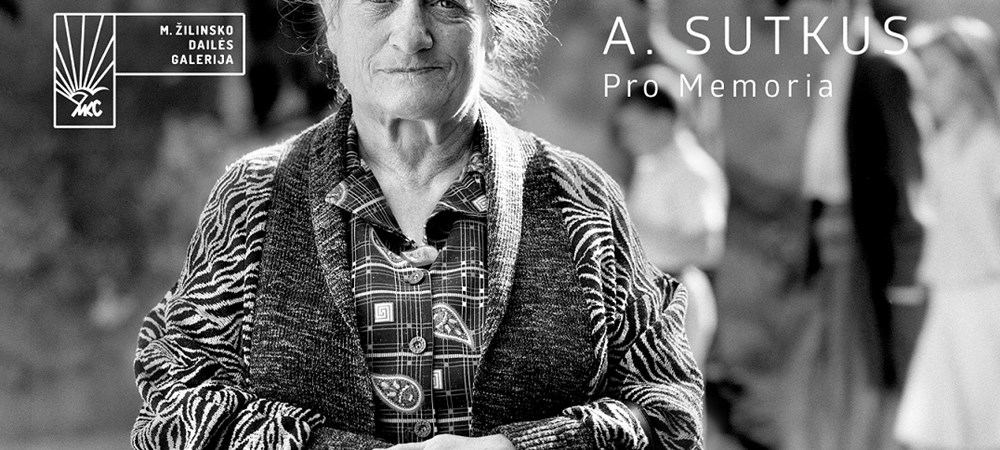 ANTANAS SUTKUS PHOTOGRAPHY EXHIBITION "PRO MEMORIA"
In 1988 Antanas Sutkus started taking pictures of the Holocaust survivors meetings. Later, it grew into a unique series of portraits that witness the horrible events of war and post-war, crushing the destiny of the Jewish nation in Lithuania. The look from the eyes of the long-suffering people in the photos reminds us of what has happened, so that it would never happen again. For many, Antanas Sutkus is a photographer of Lithuanian people: those met not just in the street – living a happy or dramatic life, but also those, witnessing humanity. For a photographer, the Holocaust survivors are an integral part of the Lithuanian people.

In 1941, the Jews were kept in a ghetto, set up by the Nazi Germany in Kaunas. At one time, there were 30,000 people living here, most of them were deported to concentration camps or shot in the Ninth Fort. In 1944, when the front was approaching to Kaunas, the Nazis decided to liquidate the ghetto. On the 8th of July, 1,200 Jews were flown by barges, and on the 10th of July – another 900 by train. On the 12th of July, the Nazis began to fire the ghetto's houses. The running people were shot; almost all residential houses and workshops were burned. The fires in the territory of Kaunas Ghetto flared until the 29th of July. Only the ruins with chimneys were left in the ghetto of Kaunas, and from more than 37 thousand of Jewish people, only 634 were left.
The exhibition is dedicated to commemorate the 75th Anniversary of the liquidation of Kaunas Jewish Ghetto. The exposition contains the copyrighted vintage silver prints. The author – A. Sutkus – will participate in the opening of the exhibition.
Antanas Sutkus (born 1939) is a photographer, the initiator and long-time leader of the Union of Lithuanian Art Photographers, perhaps the most renowned Lithuanian photographer. His works are extensively displayed in important art centers around the world. He is the winner of the Lithuanian National Prize, the winner of significant world cultural prizes and awards. In 2017 he won the Erich Salomon Award, in 2018 a retrospective exhibition was launched at the National Gallery of Art, a unique monograph was published in the prestigious Steidl publishing house.
Curator of the exhibition: Gintaras Česonis
Exhibition Coordinator: Irmantė Šarakauskienė
The exhibition will be till 6 October 2019
The organizers of the exhibition: PI Antanas Sutkus Photography Archive
Information Partners: Lithuanian Jewish Community, Kaunas City Municipality
The exhibition is supported by the Lithuanian Council for Culture and Lithuanian Jewish Community