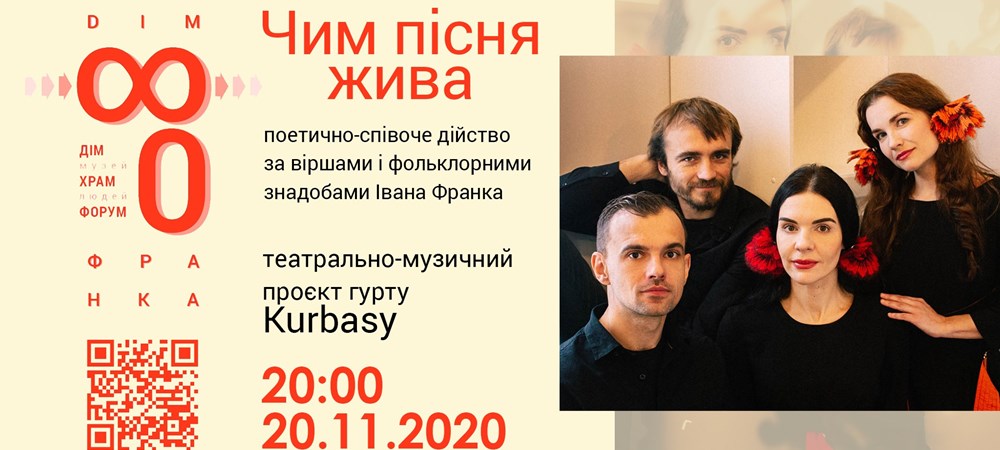 Theatrical and musical project of the band KURBASY in the Franko House
On November 20, at 20:00, we invite you to #Franko House for a musical-theatrical project of the band KURBASY - a poetic-singing action "What makes a song alive" based on poems and folklore by Ivan Franko.
This program will take place as part of the celebration of the 80th anniversary of the Museum and the implementation of the project of the Franko House "Museum of People. House. Temple. Forum "(#focus culture).
The diversity of Ivan Franko's poetic worlds inspired the KURBASY ensemble to create a musical-poetic composition. It reflected exciting universal themes: self-knowledge, love, philosophical thoughts and jokes. Folk songs recorded by Franko in ethnographic expeditions became a frame around the poems. This evening they will be accompanied by electronic music by Yurko Yosyfovych.
The group's soloists - Natalka Rybka-Parkhomenko and Marichka Kopytchak - are well known primarily as actors of the Lesya Kurbas Lviv Theater. It was here that their first joint musical improvisations with folk songs began, which later turned into unique song and theatrical performances.
The band's connection with the theater can be traced not only in the name, but also in the approach to making music. Theatrical drama is woven into concert programs and work on each song. So their performances are more like musical performances.
The director of the action is Oleh Oneshchak.