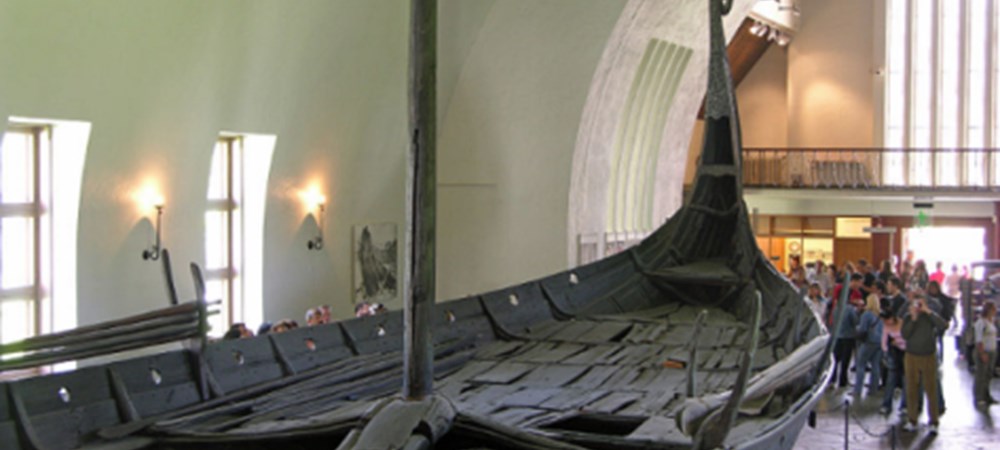 Viking Ship Museum
Vikingskipshuset
When the Tune Ship was found and excavated in 1867 at the Nedre Haugen farm in Rolvsøy, Østfold, there were no plans for a special museum to display the ship; neither was a museum planned when the Gokstad Ship was excavated in the summer of 1880 at Gokstad farm near Sandefjord. The Gokstad Ship was exhibited in a temporary shelter in the University Garden in Oslo. In 1904 the Oseberg Ship was excavated at the Oseberg Farm in Slagen, not far from Tønsberg. After the excavation, the ship was reassembled in another temporary shelter in the University Garden.
In 1913 Professor Gabriel Gustafson, who had led the excavation of the Oseberg Ship, proposed the building of a Viking Ship Museum at Bygdøy. The same year an architect competition was announced, and was won by Arnstein Arneberg (1882 - 1961). The Norwegian parliament granted funding, and in 1926 the Oseberg wing was completed and the ship was moved to its new home. In 1932 the wings for the Gokstad and Tune Ships were finished and all the ships were now in place. The last wing with grave finds from the Oseberg ship burial was first completed in 1957.
Arnstein Arneberg is a highly renowned Norwegian architect and the Viking Ship Museum is one of his most significant works, which includes the Oslo City Hall and the home of the Norwegian royal family at Skaugum.
On entering the Viking Ship Museum, visitors immediately face the Oseberg Ship. Walking past the ship, one reaches the centre axis of the museum, with artefacts from the Oseberg ship burial in front, the Gokstad Ship to the left and the Tune Ship to the right. The Museum also has a balcony with a good view of the Oseberg and Gokstad Ships.
In the gallery above the entrance there are thematic exhibitions.The museum also has a museum shop with books, posters, post cards, souvenirs and jewellery. In the summer, food and mineral water are sold at the kiosk outside the museum.
Text source
Image source
Other venues
---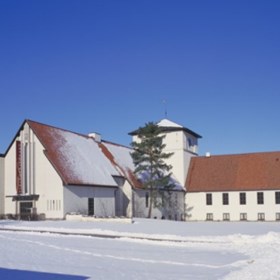 Frederiksgate 2, Oslo, Norway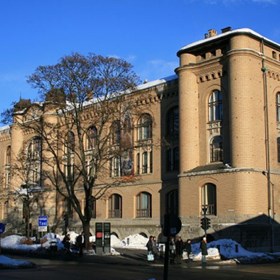 Frederiksgate 2, Oslo, Norway
---
Exhibitions and events
We don't have anything to show you here.
---
Educational programs
We don't have anything to show you here.
---
Collections
We don't have anything to show you here.