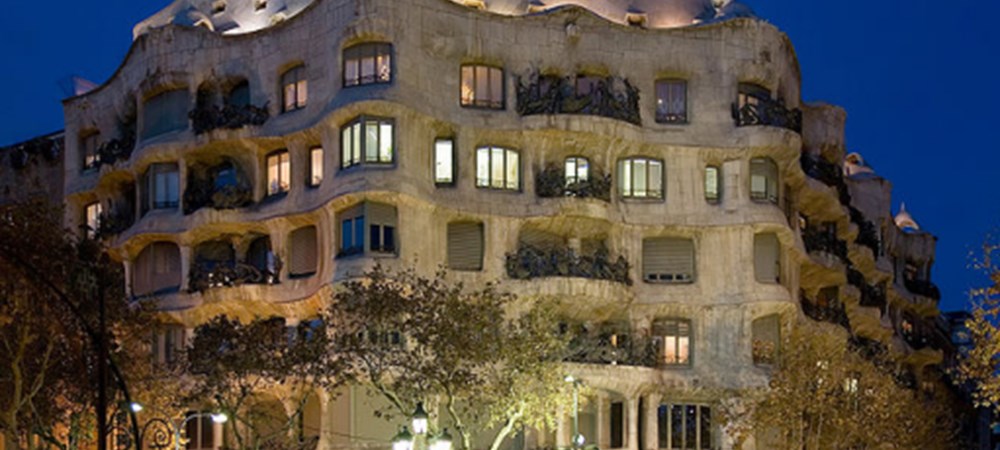 La Pedrera
Casa Milà, better known as La Pedrera (meaning the 'The Quarry'), is a building designed by the Catalan architect Antoni Gaudí and built during the years 1905–1910, being considered officially completed in 1912. It is located at 92, Passeig de Gràcia (passeig is Catalan for promenade) in the Eixample district of Barcelona, Catalonia.
It was built for the married couple, Rosario Segimon and Pere Milà. Rosario Segimon was the wealthy widow of José Guardiola, an Indiano, a term applied locally to the Catalans returning from the American colonies with tremendous wealth. Her second husband, Pere Milà, was a developer who was criticized for his flamboyant lifestyle and ridiculed by the contemporary residents of Barcelona, when they joked about his love of money and opulence, wondering if he was not rather more interested in "the widow's guardiola" (piggy bank), than in "Guardiola's widow".
Gaudi, a Catholic and a devotee of the Virgin Mary, planned for the Casa Milà to be a spiritual symbol. Overt religious elements include an excerpt from the Rosary prayer on the cornice and planned statues of Mary, specifically Our Lady of the Rosary, and two archangels, St. Michael and St. Gabriel. The design by Gaudi was not followed in some aspects. The local government objected to some aspects of the project, fined the owners for many infractions of building codes, ordered the demolition of aspects exceeding the height standard for the city. The Encyclopedia of Twentieth Century Architecture states that the statuary was indeed Mary the mother of Jesus, also noting Gaudi's devoutness, and notes that the owner decided not to include it after Semana Trágica, an outbreak of anticlericalism in the city. After the decision was made to exclude the statuary of Mary and the archangels, Gaudi contemplated abandoning the project but was persuaded not to by a priest.
Casa Milà was in poor condition in the early 1980s. It had been painted a dreary brown and many of its interior color schemes had been abandoned or allowed to deteriorate, but it has since been restored and many of the original colors revived.
The building is part of the UNESCO World Heritage Site "Works of Antoni Gaudí". The building is now owned by Caixa Catalunya.
Gaudi wanted the people who lived in the flats to all know each other therefore there were only lifts on every second floor so people had to communicate with one another on different floors.
Text source
Image source
---
Exhibitions and events
We don't have anything to show you here.
---
Educational programs
We don't have anything to show you here.
---
Collections
We don't have anything to show you here.