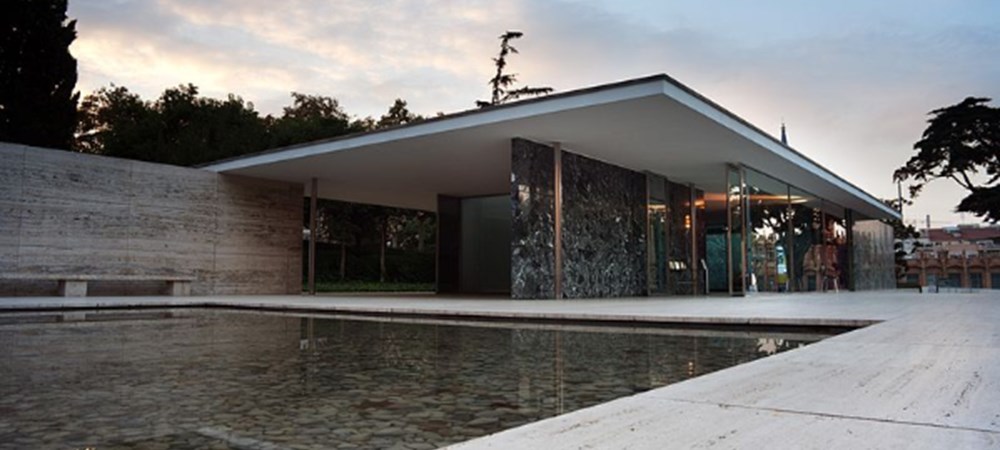 Mies van der Rohe Pavilion
Pavelló Mies van der Rohe
The Barcelona Pavilion was designed by Ludwig Mies van der Rohe as the German National Pavilion for the 1929 Barcelona International Exhibition, held on Montjuïc.

The Barcelona Pavilion, a work emblematic of the Modern Movement, has been exhaustively studied and interpreted as well as having inspired the oeuvre of several generations of architects. It was designed by Ludwig Mies van der Rohe (1886-1969) as the German national pavilion for the 1929 Barcelona International Exhibition. Built from glass, steel and different kinds of marble, the Pavilion was conceived to accommodate the official reception presided over by King Alphonso XIII of Spain along with the German authorities.

After the closure of the Exhibition, the Pavilion was disassembled in 1930. As time went by, it became a key point of reference not only in Mies van der Rohe's own career but also in twentieth-century architecture as a whole. Given the significance and reputation of the Pavilion, thoughts turned towards its possible reconstruction.

In 1980 Oriol Bohigas, as head of the Urban Planning Department at the Barcelona City Council, set the project in motion, designating architects Ignasi de Solà-Morales, Cristian Cirici and Fernando Ramos to research, design and supervise the reconstruction of the Pavilion.

Work began in 1983 and the new building was opened on its original site in 1986.

The materials
Glass, steel and four different kinds of marble (Roman travertine, green Alpine marble, ancient green marble from Greece and golden onyx from the Atlas Mountains) were used for the reconstruction, all of the same characteristics and provenance as the ones originally employed by Mies in 1929.

Mies van der Rohe's originality in the use of materials lay not so much in novelty as in the ideal of modernity they expressed through the rigour of their geometry, the precision of the pieces and the clarity of their assembly.

The Barcelona chair
Mies van der Rohe designed a chair, especially for the Pavilion, consisting of a leatherupholstered metallic profile that over the years has become an icon of modern design. To such an extent, in fact, that the Barcelona chair is still manufactured and marketed today.

Georg Kolbe's sculpture
The sculpture is a bronze reproduction of the piece entitled Alba (Dawn) by Georg Kolbe, a contemporary of Mies van der Rohe's. Masterfully placed at one end of the small pond, the sculpture is reflected not only in the water but also in the marble and glass, thereby creating the sensation that it is multiplied in space, while its curves contrast with the geometrical purity of the building.

The Mies van der Rohe Pavilion occasionally hosts presentations and temporary exhibitions that might slightly modify its interior. The Pavilion may occasionally be closed to the public or access may be restricted.
---
Exhibitions and events
We don't have anything to show you here.
---
Educational programs
We don't have anything to show you here.
---
Collections
We don't have anything to show you here.