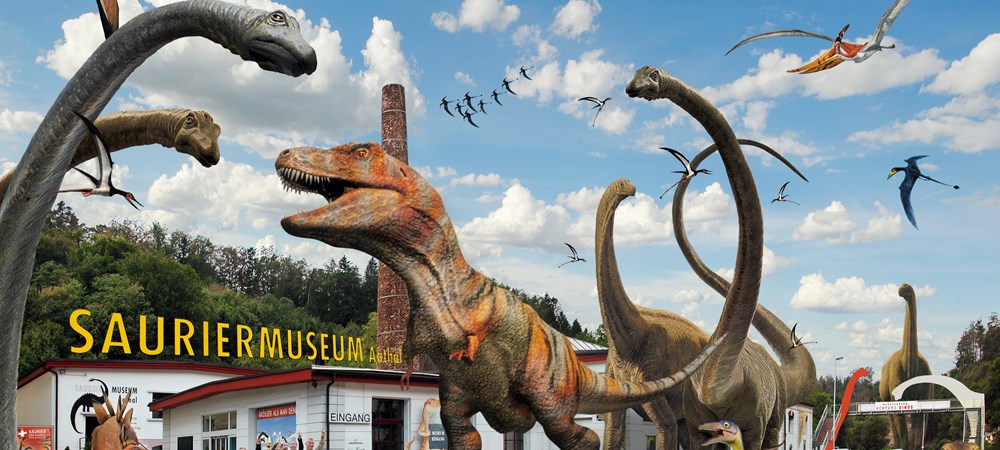 Aathal Dinosaur Museum
Sauriermuseum Aathal
WELCOME TO THE EMPIRE OF DINOSAURS
The Sauriermuseum Aathal (Aathal Dinosaur Museum) has been around for more than 20 years: be surprised by the extensive exhibits and the countless activities on offer.
Immerse yourself in a bygone world and experience how the bizarre dinosaurs, the rulers of land of yesteryear, could have lived. Much about their lives remains hidden from us, but with each new fossil discovery and joint research effort, a bit more light is shone on this dark past. In this day there is a wide realm of knowledge, attractively staged in the Aathal Dinosaur Museum and waiting to be experienced.
In addition to the tour of the museum, films, play activities and more draw visitors. If so requested, special offers can be booked or participation in selected activities can be arranged. Visits to the museum are recommended for families with children aged 4 and above. Following a reservation, we will offer museum tours for groups in English.
On this website, you will find important information in the area of the upper (yellow) service menu, available in English: Home, Opening times, Ticket Prices, Arrival, Infrastructure, and Contact. In addition, you will find further information on the Aathal Dinosaur Museum in the red navigation menu under Museum.
If you want to access more content in your own language, please use a translation program e.g. this one from Google: http://translate.google.com/
We look forward to your visit!
---
Exhibitions and events
---
Educational programs
We don't have anything to show you here.
---
Collections
We don't have anything to show you here.