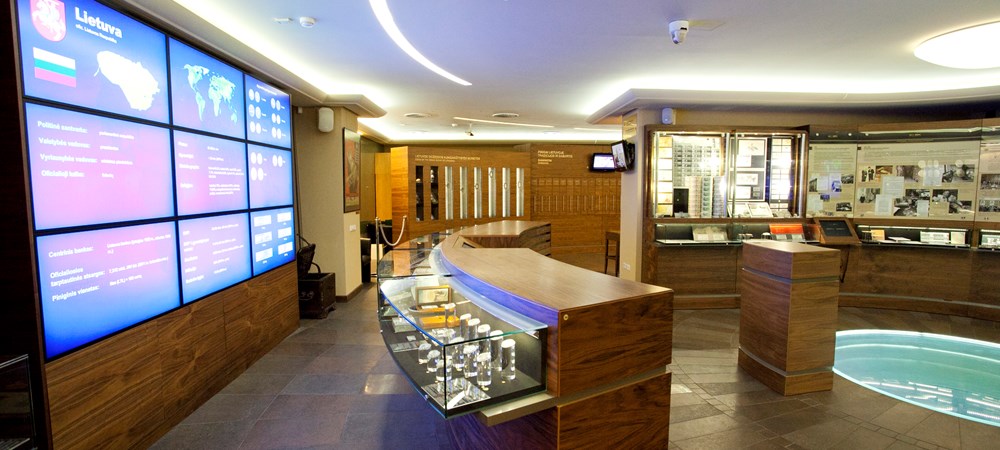 Money Museum of the Bank of Lithuania
Lietuvos Banko Muziejus
The Money Museum of the Bank of Lithuania presents the history of world money and banking, from ancient times to the current era. The Museum contains a rich collection of numismatic items, banknotes, writings, photography and other collectable sets.

The Museum was established in 1999 and rebuilt and modernised in 2010. The premises occupy 300 square metres.

Basic information in the Museum is provided for visitors in Lithuanian and English; however, the provided audio guides offer a choice of a wider variety of languages (German, Russian and Polish). All of the audio guides in the Money Museum have touch screens, which let visitors walk around the museum and pick the guiding tour in different languages or only choose to listen to the information that they are interested in.

The Money Museum fulfils the needs of museum visitors with disabilities. The Museum has special elevators for visitors who use wheelchairs; also available are informational pull-out stands in the exposition drawers. Their handles are placed at a height convenient for wheelchair users. Part of the exposition can vary automatically, with the help of installed transporters that start to function with the push of a button and enables plates with expositional items to move together with an optical lens, which changes instantly. The electronic system of translation into sign language is applied in a portable computer device.

The Lithuanian Association of People with Disabilities nominated the Money Museum as being the friendliest museum of 2012 for disabled people. The scientific magazine Mint World Compendium made a list of the five best money and currency museums in the world, and included the Money Museum of the Bank of Lithuania together with Canadian, German Bundesbank, South Korean Central Banks and the United States Federal Reserve Bank's branches of money and currency museums situated in the different states of America. In the project "European Destinations of Excellence (EDEN)", which nominated the Lithuanian tourist attraction place of 2013, the Money Museum was acknowledged as an exceptional tourist target and won the category prize of "Money Museum — the Friendliest Museum in Vilnius". Vilnius city municipality awarded the Money Museum the category of the friendliest museum for visitors in Vilnius in a competition called "Vilnius Hospitality 2013". The European Museum Forum of the European Council nominated the Money Museum with the award "European Museum of 2014" The world's biggest tourist network, TripAdvisor, in 2014 issued a certificate of highest quality (Certificate of Excellence 2014 Winner) to the Money Museum.
---
---
Educational programs
We don't have anything to show you here.
---
Collections