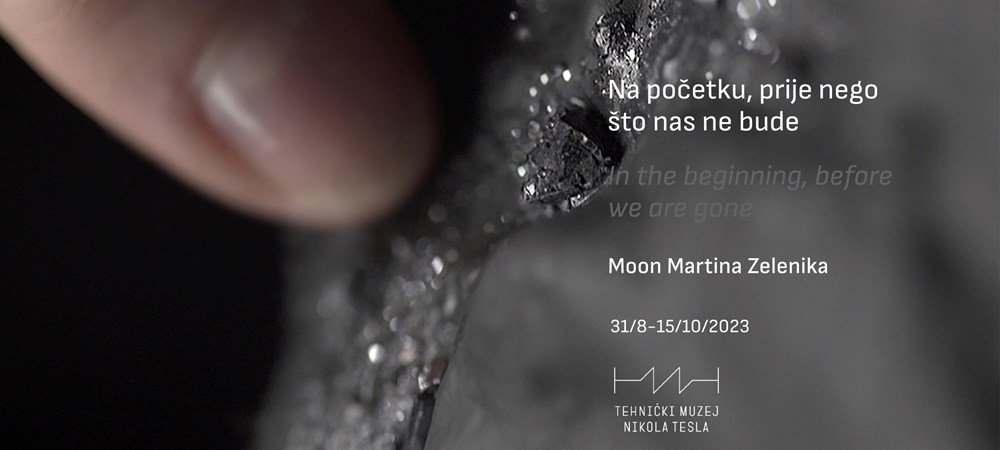 Moon Martina Zelenika, Na početku, prije nego što nas ne bude / In the beginning before we are gone
Samostalni projekt Martine Zelenike premijerno se održava u Tehničkom muzeju Nikola Tesla, na prvom katu glavne zgrade.
Izložba sadrži više medija, od tradicionalnih tehnika do najnovijih digitalnih tehnologija, a tematski se odnosi na nastanak svemira, svijeta, te poimanje života na Zemlji. Konceptualno, izložba objedinjuje umjetnost, znanost, tehnologiju i duhovnost.
Interdisciplinarna umjetnica Martina Zelenika (1978.), umjetničkog imena Moon, koristi se inovativnim pristupom u stvaranju umjetničkih djela. Kombinira tradicionalne tehnike i najsuvremenije digitalne tehnologije. Iako preferira crtanje, koristi se različitim medijima i sonifikacijom podataka poput x-ray analiza, bio senzora, slike i dr.
Diplomirala je 2001. na Akademiji likovnih umjetnosti Sveučilišta u Zagrebu, umjetnički smjer grafike, a dodatno se usavršila na Učiteljskoj akademiji Sveučilišta u Zagrebu 2002.
Magistrirala je 2006. godine iz područja videa - novih medija na Akademiji za likovnu umetnost in oblikovanje Sveučilišta u Ljubljani. Dobitnica je nekoliko stipendija, više značajnih nagrada i priznanja. Sudjelovala je na međunarodnim simpozijima i konferencijama posvećenim digitalnoj i multimedijalnoj umjetnosti. Izlagala je samostalno u Hrvatskoj i inozemstvu, te festivalima novih medija i brojnim međunarodnim izložbama. Članica je Arhiva digitalne umjetnosti ADA u Austriji i Saloona Berlin tijekom duljeg boravka u Berlinu. Na Visokom učilištu Algebra u Zagrebu predaje na Katedri za digitalnu umjetnost. Živi i radi u Zagrebu.
Izložbu možete posjetiti od 1.9. do 15.10.2023.
Za izložbu vrijedi ulaznica za stalni postav Muzeja.

Izložbu su podržali Ministarstvo kulture i medija RH i Gradski ured za kulturu i civilno društvo, Grad Zagreb.
Medijski pokrovitelji: Zagreb plakat, Yammat.FM, Grazia, After5, Neon

****
The exhibition covers several media, from traditional techniques to the latest digital technologies, while thematically it refers to the ubiquitous phenomenon of change and its influence on the creation of the universe, the world, and the concept of life on Earth. Conceptually, the exhibition combines art, science, technology, and spirituality, i.e. it is an example of the interweaving of contemporary and new media art with theology.
Interdisciplinary artist Martina Zelenika (1978), under the artistic name Moon, calls for unity, questioning of being, and freedom in the age of post-humanism through the philosophical-theological aspect while using an innovative alchemical approach to create artworks. She combines traditional techniques and state-of-the-art digital technologies. In addition to drawing as a primary medium, she uses different media and sonification data such as X-ray analysis, biosensors, images, Etc. Zelenika graduated in 2001 from the Academy of Fine Arts of the University of Zagreb, majoring in printmaking art. In 2006, she received her master's degree in video-new media at the Academy of Fine Arts and Design of the University of Ljubljana. She is the recipient of several scholarships, several important awards, and recognitions. She participated in international symposia and conferences dedicated to digital and multimedia art. She exhibited independently in Croatia and abroad at new media festivals and numerous international exhibitions. She is a member of the ADA Digital Art Archive in Austria and Saloon Berlin during her extended stay in Berlin, Germany. She teaches at the Department of Digital Art at the University of Algebra in Zagreb. She lives and works in Zagreb.
www.martinazelenika.com

The exhibition can be visited with the ticket for the permanent display of the Museum.
The exhibition was supported by the Ministry of Culture and Media of the Republic of Croatia and the City Office for Culture and Civil Society of the City of Zagreb.
Media sponsors: Zagreb plakat, Yammat.FM, Grazia, After5, Neon