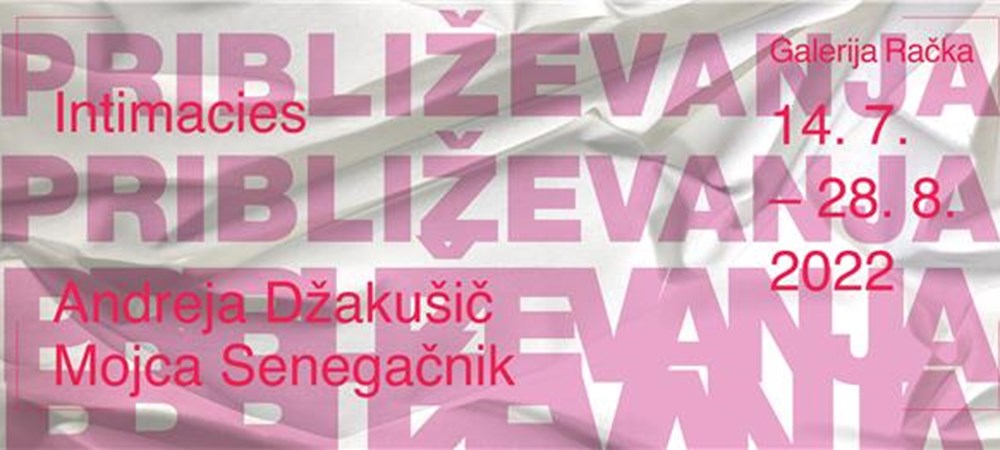 Andreja Džakušič and Mojca Senegačnik: Intimacies
You are warmly invited to the opening of the exhibition Intimacies, a joint project by Andreja Džakušič and Mojca Senegačnik, on Thursday 14 at 7 pm at Račka Gallery.
Objects and images as well as inscriptions on the walls consisting of phrases and, above all, words and sentences taken from people's testimonies and stories. The two artists obtained them through an anonymous questionnaire or through conversations with individuals in order to make visible, through their participation, especially those issues related to sexuality that are still dominated by taboos, stereotypes and prejudices. Topics that we rarely encounter in today's discourse on sexuality and that many people who are not directly confronted with them are not even aware of, but that significantly shape the lives of those who experience them or that everyone is confronted with and that, when talked about, often cause embarrassment and discomfort. Among the notes, images and objects is a chronology of love and intimacy in the mature years. In the form of carefully and accurately handwritten text messages, complete with all emoticons. All are systematically arranged, with dates of sending and receiving. It seems as if the messages were copied in fear of being lost forever. From phone or memory. Between all these visual elements, still open to association and interpretation, are the audio recordings. The read statements of individual persons with their stories and experiences, longings, embarrassments and fears, approach the theme of the exhibition directly without concealment or moralising: the experiences of sexuality and disability, asexuality, sexuality and old age and sexual feelings in childhood. The recordings are installed into the exhibit so that the content is brought closer to the viewer/listener not only through a sense of intimacy, confidentiality and connection that comes from listening to the private narratives of the other and the presence of the personal, but also literally, physically – because the visitor has to get very close to them in order to hear them in the bed pillows immersed in softness, signifiers of closeness, intimacy and security, with embroideries and drawings by the artists.
The exhibition Intimacies, a joint project by Andreja Džakušič and Mojca Senegačnik, is an exploration of desire and pleasure beyond societal prejudices, expectations and norms, a place for approaching the other and different and sharing a colourful palette of experiences belonging to different life stages and situations. It is conceived as a an environment for honest "conversation", expression and revelation of known or unknown contents as well as identification with the topics discussed. On the one hand, it is about topics that are on the fringes of social interest and debate, although the view of sexuality has become much more open in recent decades, sexual taboos have been loosened and a diversity of sexuality beyond heteronormative patterns has become accepted. Dealing with the emotions, problems, needs and burdens of disabled and asexual people is an area that is still largely invisible and above all misunderstood in society. Disabled people are still desexualised, their need for pleasure is completely taboo, and asexuality is mostly treated as a pathology, in the belief that feeling sexual desire is necessary and natural. On the other hand, the exhibition raises questions that are the subject of much research and discussion, but often cause discomfort and rejection due to prejudice and societal attitudes. Sexual feelings in children are viewed with distaste, even though interest in one's own body, another's body and sexual play is an essential part of healthy child development, and growing older is stereotypically viewed as unrelated to sexuality or with an air of condescension.
The starting point of Intimacies lies in the history of Račka Gallery, the former use of the premises, which in the 1990s, then still under the name of Račka, was the first nightclub in Slovenia that functioned as a peep show and in which representations of sexuality were performed that still prevail today with associations of sexuality based primarily on the idea of beautiful, young and healthy bodies. In contrast, the artists draw attention to the disabled, age-marked and asexual body, to the presence of sexual feelings from early childhood to old age, regardless of whether the body is healthy or damaged, and to the legitimacy of the asexual sexual orientation, which shake to its foundations the prevailing notion of the universality of the human desire for sexuality, challenge social constructions of what is appropriate, acceptable and normal, and emphasise the right of everyone without distinction to intimacy, to loving and being loved, and to making their own choices whether to practise a particular form of sexuality or not.
Production: Zavod Celeia – Center sodobnih umetnosti Celje
Supported by: Mestna občina Celje
Curator: Irena Čerčnik
Text: Irena Čerčnik