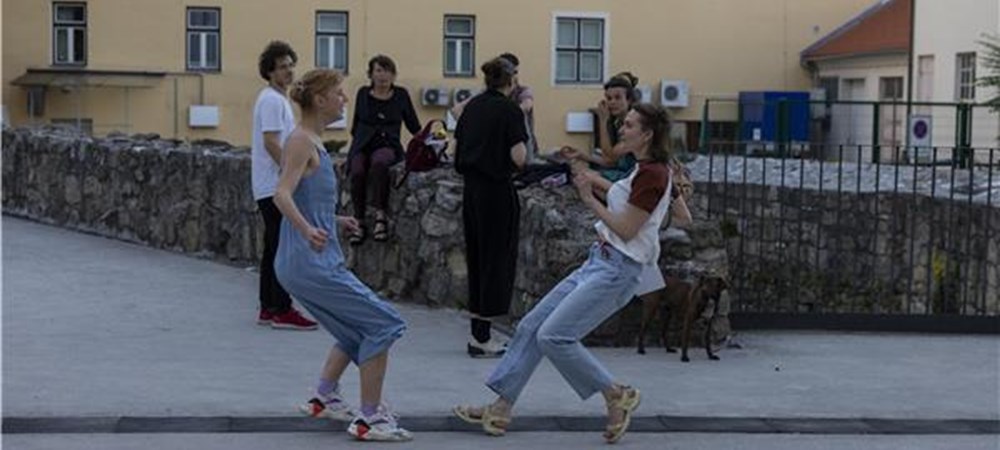 Delavnica performansa s Tino Jeranko: Stik, dotik
Vabljeni na delavnico z umetnico Tino Jeranko v torek, 16. avgusta, ob 18. uri v Galerijo sodobne umetnosti.
Delavnica, ki jo organiziramo v sklopu 5. trienala mladih umetnic in umetnikov Premiera 2022, se osredotoča na različne oblike performansa ter ponuja vprašanje, kdaj prepoznamo neko gesto ali gibanje kot nastop ali kot performans. Skozi različne gibalne vaje in igre se bomo posvetili dotiku, zvoku in fizični koordinaciji v prostoru. Opazovali bomo kako ustvarjamo jezik in na kakšne načine se sporazumevamo.

Delavnica traja 90 minut in je brezplačna. Za udeležbo ne potrebujete predznanja, le udobna oblačila in prijavo na centersodobnihumetnosti@celje.si.
---
Tina Jeranko (1991) je diplomski študij opravila na Kraljevi akademiji lepih umetnosti v Haagu na Nizozemskem, trenutno pa študira na magistrskem programu Live Art and Performance Studies na univerzi Uniarts v Helsinkih na Finskem. Svojo umetniško prakso predstavlja predvsem v mednarodnem prostoru (The Posture of Impermanence, Artsi, Vaanta, Finska; Summer Highlights, Kunstpodium T, Tilburg, Nizozemska; Getting My Friends Drunk, POSTgalerija, Kaunas, Litva; The I in formation, Kunstpodium T, Tilburg, Nizozemska; Come As You Are, Trixie, Haag, Nizozemska … ) Njeno delo je sestavljeno iz koreografiranih performativnih izzivov in delavnic performansa, skozi katerega raziskuje odnos med jezikom in fizičnim telesom ter njunimi pomeni.