The entire team at Museums.EU is amazed by the response from museums and galleries. Even in these hot summer months, organizations all over Europe have entered a lot of content, expressed their support for the project AND gave us excellent feedback. We've implemented a lot of the suggestions already, such as an improved display of collections (e.g. European Paintings by the National Gallery of Slovenia) or the more streamlined map of museums on the first page.
We're very grateful for the feedback, so please – keep it coming!
We've also received many questions regarding how museums can participate, how they can add data or how a museum that currently isn't on Museums.EU can be added and become a part of the network.
We try to answer all questions as quickly as possible and will continue to offer help and support but we still thought that it might me a good idea to shed some more light on the joining process and share some details about how to add content to Museums.EU.
There are 3 different possibilities: a public museum or gallery is currently missing from Museums.EU; a museums is already in the system but you don't have access to the listing; or you already have your museum/gallery listed, have access and are ready to go!
I'll try to explain all of the options in more detail.
A. Your museum or gallery isn't yet on Museums.EU
In this case, apologies are in order! We've added a lot of museums and galleries (and new ones are added every day) but it seems we have missed yours.
Allow us to fix that ASAP! So how do we do it? It's VERY SIMPLE. Just click on this JOIN Museums.EU link to open our simple "join form".

For this first step, we only require some basic information such as Name, Address, City and other contact information. And so we can create a username for you (so you can start making your profile page look it's best!), we also need your basic contact information (email, …). Don't worry, this information isn't visible anywhere on the site!
As soon as you click the "Send" button, your notification will be on its way! Please allow a few hours (up to 1 day) before you get your login credentials. We want the data on Museums.EU to be as accurate and up-to-date as possible, so we manually verify each request. Once this verification is completed, we add the museum and send you an email with all the details. It's as simple as that!
B. Your museum is already in the system but you don't have access
This option is even easier. Again, the process goes through our JOIN Museums.EU link but it's now a little bit simpler. When you type the name of your museum, we will try and find it in the database. Once we find a match, we will ask you "Is this your museum?". Click "YES" and all the remaining data will be populated.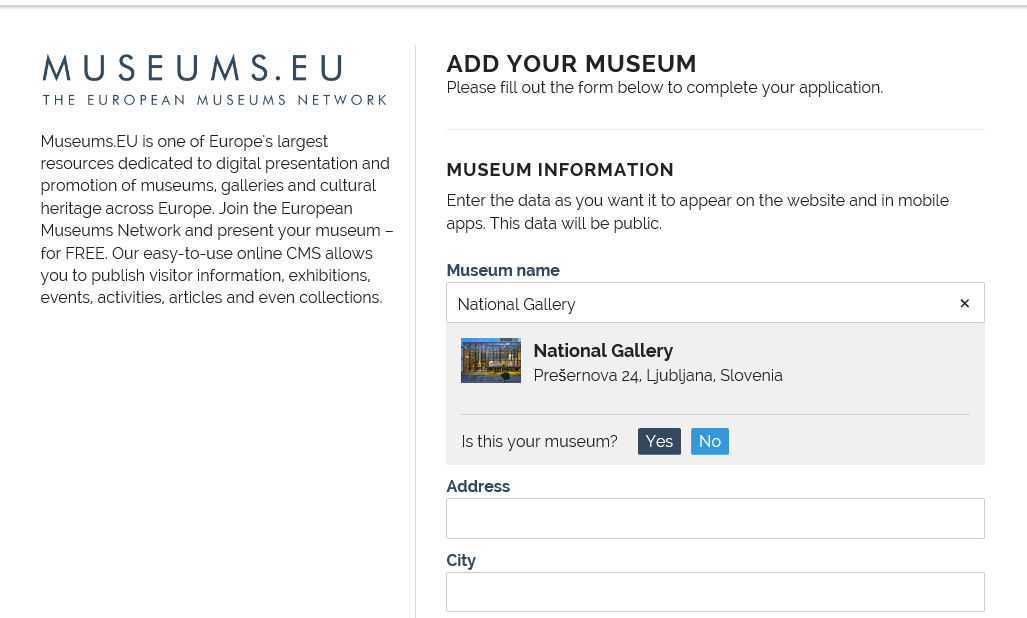 For verification reasons, we still require that you enter your contact details, which is where you will receive your login credentials. Please note that we require that the domain name of your museum's website (e.g. www.mymuseum.eu) matches the domain of your email address (e.g. name@mymuseum.eu).
C. You have your museum/gallery listed and have access
First of all, welcome to Museums.EU! By becoming a member and requesting access, you've received access to our FREE Online CMS, which makes it really easy to edit your basic information such as contact details, opening hours and ticket prices but also information such as exhibitions,events and activities. Does your museum or gallery offer various group activities such as workshops, guided tours, lessons, which can be booked in advanced? I'm sure it does! A lot of visitors to Museums.EU come from schools, so be sure to add the educational activities you offer.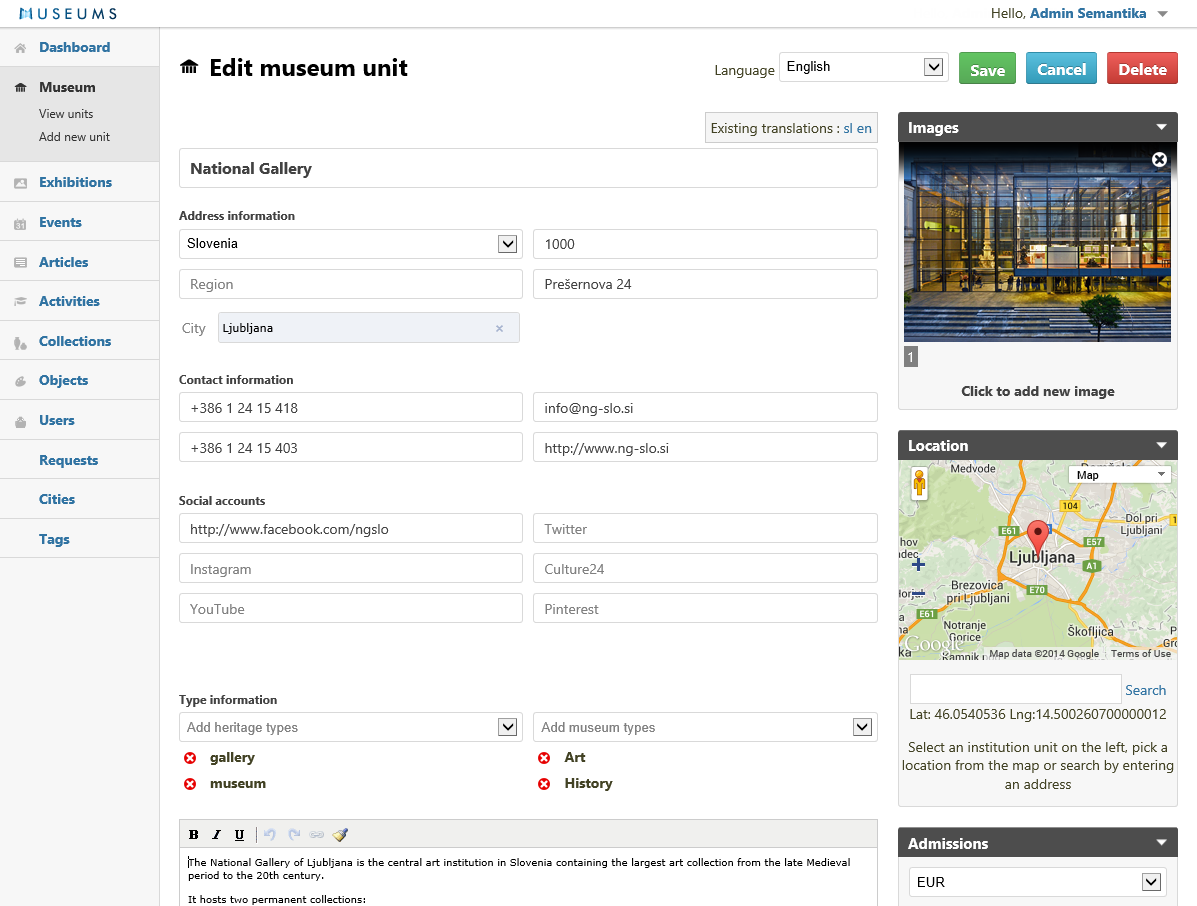 Your FREE access also offers you a lightweight Collections Management System, which enables you to showcase your top collections and objects. Once a collection is created in the CMS, we suggest you add at least a couple of your top objects to better highlight your amazing heritage! A much more complete Collections Management System is also available (but not yet public) – please email us, if you'd like to learn more.
D. Have questions, comments, suggestions, need help, … ? ASK AWAY!
We're available every day for any type of feedback you may have. Having problems signing up? Can't upload your images? Not sure what data should go where? No problem, we're here to help!Contact us via email (editor@museums.eu), Twitter (@MuseumsTweets ) or Facebook (/MuseumsOfTheWorld) and we'll do our best to help.
E. PROMOTE Museums.EU among your colleagues!
Know of a museum or gallery that doesn't yet participate? Let them know about Museums.EU and help this project grow. You can also follow us on Twitter (@MuseumsTweets ) or like us on Facebook (/MuseumsOfTheWorld).
We really appreciate all the support we get. This support really is the extra boost of energy in these hot summer months!