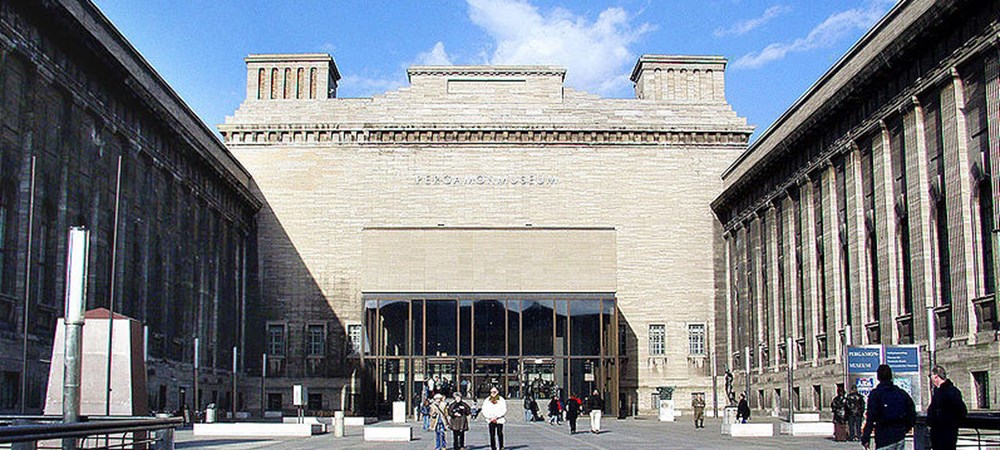 Pergamon Museum
Pergamonmuseum
The Pergamon Museum was built between 1910 and 1930 under the supervision of Ludwig Hoffmann, working according to designs by Alfred Messel. From 1901 to 1909, a smaller building had occupied the same spot. This building originally accommodated the important excavation finds of the Berlin Museums, such as the frieze of the Pergamon Altar which was recovered between 1878 and 1886. However, insufficient foundations soon led to damages in the building structure and the building had to be demolished even before the outbreak of the First World War.
The new, larger Pergamon Museum was conceived as a "Dreiflügelanlage". Today, it accommodates three separate museums: the Collection of Classical Antiquities, the Museum of the Ancient Near East and the Museum of Islamic Art. The monumental reconstruction of archaeological building ensembles - such as the Pergamon Altar, the Market Gate of Miletus and the Ishtar Gate including the Processional Way of Babylon and the Mshatta Façade - has made the Pergamonmuseum world-famous.
Following the schedule of the Masterplan Museum Island, the restoration of the Pergamon Museum will begin in 2008 and will be carried out by stages under the auspices of the architectural office of Oswald Mathias Ungers. A total closure of the building will be avoided.
Text source
Image source
---
Exhibitions and events
We don't have anything to show you here.
---
Educational programs
We don't have anything to show you here.
---