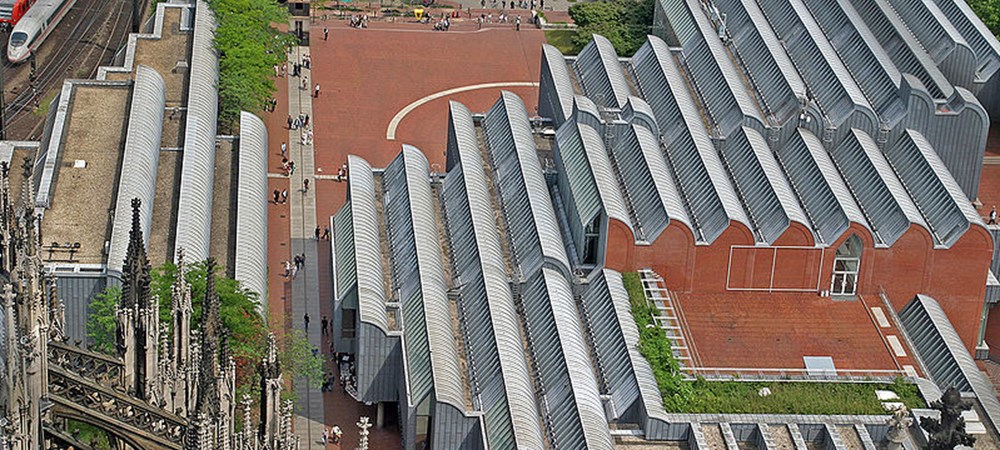 Museum Ludwig
Roy Lichtenstein's M-Maybe, Andy Warhol's Brillo Boxes and George Segal's Restaurant Window, all icons of American Pop Art, had all just been completed when in 1969 they arrived as a loan at Wallraf-Richartz-Museum. The works came from Peter and Irene Ludwig, who had put together the largest Pop Art Collection outside of the USA.
The donation of 350 modern artworks by Mr and Mrs Ludwig marked the founding of Museum Ludwig in 1976. It was to be the first museum to exhibit contemporary art in Cologne. Apart from Pop Art, the Ludwigs also made a permanent loan to the new museum of their Russian Avant-Garde Collection from 1906 to 1930, as well as several hundred Works by Pablo Picasso. The Picassos were entrusted to the museum in two generous donations in 1994 and 2001 and are now owned by Museum Ludwig. The Modern Art Department of the Wallraf Richartz Museum with the Expressionism Collection amassed by the Cologne lawyer Joseph Haubrich, formed the basis of the contemporary art collection and was also integrated into Museum Ludwig.
The museum has made it a policy to continue collecting contemporary art - the latest work is always just a few months old. In this way German art from the 1970s and 80s made its way into Museum Ludwig, along with the latest international developments and installations by the younger avant-garde.
1986 saw the opening of the new building nestling between the cathedral, the Rhine and the main railway station. It was home to the Wallraf-Richartz Museum, Museum Ludwig, and the Philharmonie. In January 2001 the Wallraf-Richartz Museum moved into its own building, leaving art of the twentieth century and the present day with c. 7,500 m² exhibition space for itself.
Text source
Image source
---
Exhibitions and events
We don't have anything to show you here.
---
Educational programs
We don't have anything to show you here.
---
Collections
We don't have anything to show you here.