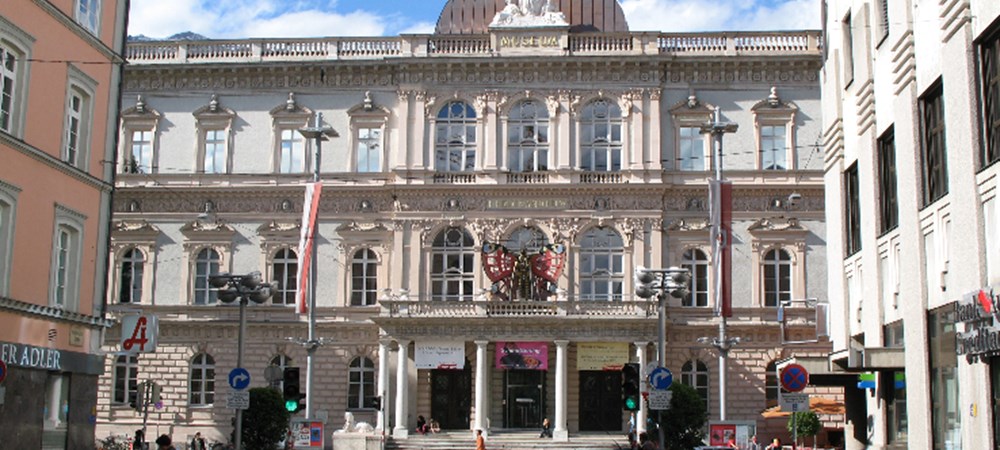 Tyrolean State Museums
Tiroler Landesmuseen
Tyrolean State Museums Ltd. was established in 2007 to jointly document the cultural history of Tyrol through the merger of the Tyrolean State Museum Ferdinandeum with the Zeughaus (Armoury), Museum of Tyrolean Folk Art, Court Church, Kaiserschützenmuseum (Imperial Infantry Museum) and the Folk Song Archive. At the same time, the modern and private structures of the company allow for a more efficient use of resources.
The Tyrolean State Museums define themselves as a place where culture and art should be experienced. The aim is to study Tyrol, its nature, history, culture, art, industry and technology as well as gain an understanding of the land and its people. Special exhibitions are intended to open people's eyes to the region and across borders.
Text source:
http://www.tiroler-landesmuseum.at/html.php/de/tiroler_landesmuseen
Foto source:
http://de.academic.ru/pictures/dewiki/50/2718_-_Innsbruck_-_Tiroler_Landesmuseum.JPG
Other venues
---
Museumstraße 15, Innsbruck, Austria
Universitätsstraße 2, Innsbruck, Austria
---
Exhibitions and events
We don't have anything to show you here.
---
Educational programs
We don't have anything to show you here.
---
Collections
We don't have anything to show you here.