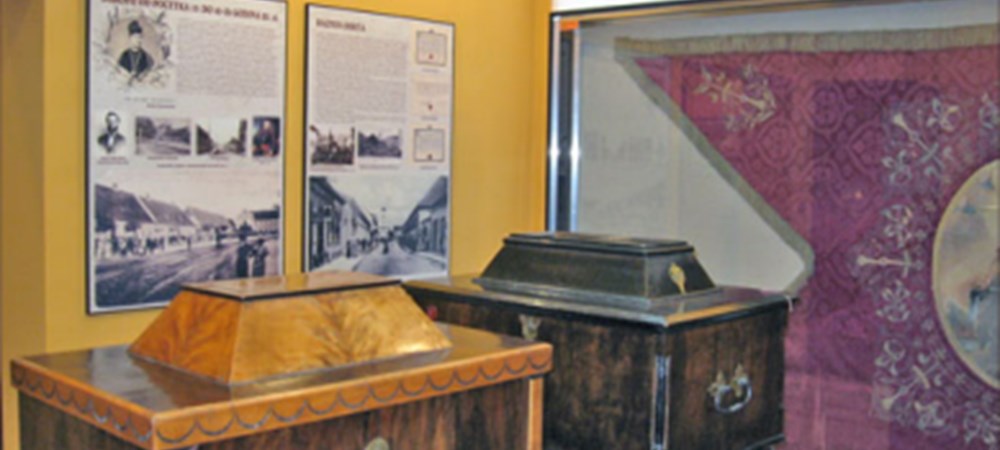 Permanent display of the historical and cultural development of Đakovo
The permanent display of the Museum of Đakovo-region is conceptually conceived as a unique coherent unit based on its three collections: ethnological, historical and cultural, and archeological – which are by the number and by quality of their exhibits the most relevant museum's collections.
The ethnological display representing everyday life and holidays of Croatian people living in Đakovo region in the period between 1870s and 1930s is situated in the left wing of the museum on the ground floor. To its right, covering the area of 96.8 square meters there is the permanent display of the historical and cultural development of Đakovo. It is organized in several showrooms, the first of which is a ticket office followed by 4 rooms and a corridor that in the chronological order represent 3 major units divided into thematic entities.
The first and the largest unit, which covers two rooms and the corridor is called "Đakovo from the 13 th century to the 1940s". The first room divided into several thematic entities represents the earliest history of Đakovo, its Osmanii period and the historical development of town in the 17 th and 18 th century. The rest of this unit shows the development of the middle-class during the 19 th century and the first decades of the 20 th . The central part of this thematic entity is the development of crafts and education, but also the exhibits representing activities of various associations and institutions.
The third showroom represents the interior of a middle-class salon furnished dominantly in the Biedermeier style. The fourth room belongs to the Patriotic war as a separate entity.
Text source
Image source