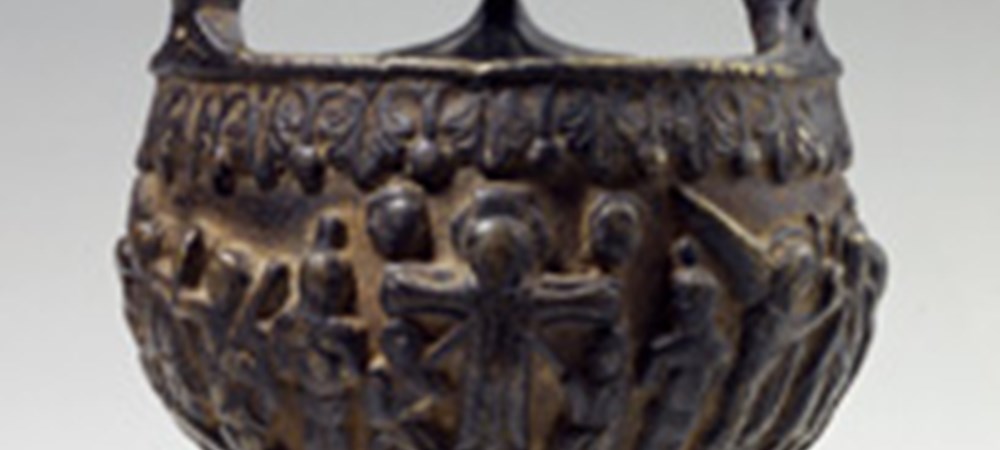 Museum of Byzantine Art at the Bode-Museum
The Museum of Byzantine Art owns a first-class collection of art works and utility objects from late Antiquity and the Byzantine period. It is the only one of its kind within Germany. The focus of the collection is on art of the Western Roman and Byzantine Empires dating from the third to the fifteenth century. Additionally, there are a large number of post-Byzantine icons and small art works.
Nearly all of the works of art originate from the ancient mediterranean region, from Rome and Italy, from Istanbul (the Byzantine Constantinople) and Turkey, from Greece and the Balkan countries, from Egypt, Nubia, Ethiopia, North Africa, the Near Eastern and Russian countries - according to expansion of the Eastern and Western Roman Empires and the states which continued the inheritance of the Byzantine culture.
Out of this broad spectrum, the Berlin collection has shaped its distinctive profile, defined by four main aspects: Roman sarcophagi and sarcophagi fragments from Late Antiquity offer a panorama of Early Christian iconography in the capital of the Western Roman Empire. The rich holdings of figurative and ornamental sculpture from the Eastern Roman Empire allow insight into the stylistic diversity and developments within this genre; no collection other than the archaeological museum in Istanbul is on par with this part of the Berlin collection. Precious ivory carvings and mosaic icons document the high technical and artistic standard of Byzantine court art. Every-day objects and Christian religious items from Egypt give an idea of daily life and the equipment of liturgical procedures. Among these are excavated objects made of organic material such as wood or fabric which owe their preservation to Egypt's hot and dry desert climate.
Photo: © National Museums in Berlin; Fotograf: Jürgen Liepe
Text source
Image source